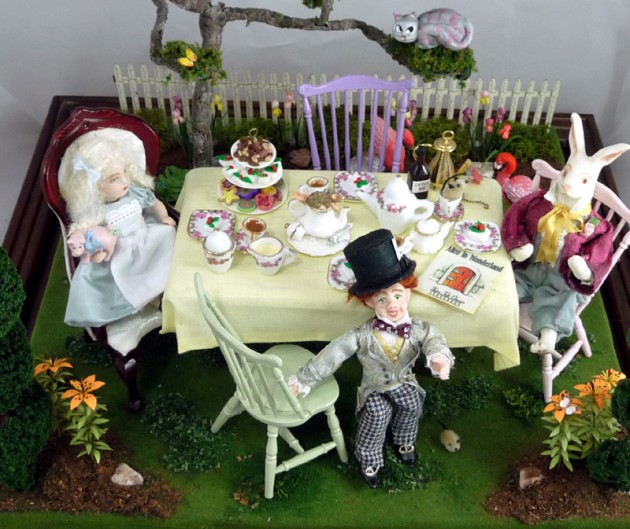 Alice in Wonderland Tea Party in Miniature
This scene was created in 2010 with miniatures given to me by friends in Chattanooga and Huntsville.  Every year we get have a party and exchange gifts with a theme in mind.   We got together a few months after the exchange party and created the landscaping for Alice and shared ideas on how to finish the setting.  I love this group!  Marla and Bev provided the materials to make the Queen of Hearts, rose bush and playing card soldiers, but I haven't had a chance to complete these yet.
Sharon Suddeth and Sharyn Wood graciously allowed me to photograph and post their miniature Alice in Wonderland scenes, too!  You can view them at this link.
---
---
Credits
Kathryn Depew:  Tiger lilies from a Bonnie Lavish kit, topiaries (tutorial here), landscaped base and landscaping (made from square of foam insulation covered with a Model Builders Supply grass mat).
Falcon Miniatures: 3-Tiered serving plates (empty), white tea pots, mouse on teapot, flamingoes
Marla Gilbert: Alice doll, Mad Hatter doll, piglet.
Amy Herman: Cat
Jeannetta Kendall Miniatures: Butterflies
Lynn McEntire: March Hare doll
Beverly Moon: Table, tablecloth
Marilyn Sledge: Desserts
Sharon Suddeth: Drink Me bottle
HJB Landscaping: Fence
Betty Willoughby: Tree, painted Chrysnbon chairs
---
Copyright 2011 Kathryn Depew
Would you like your artwork or handcraft featured on this site? Please contact me!
Related articles