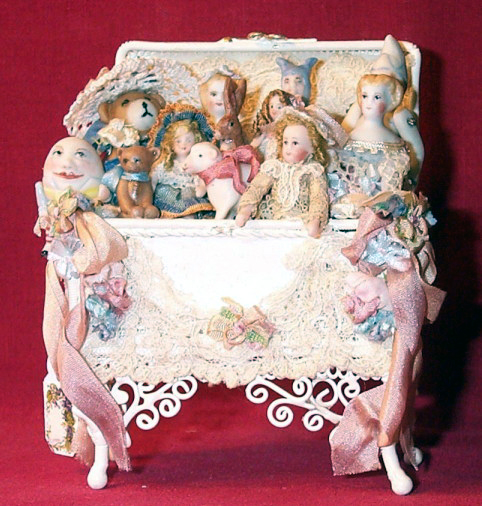 A Far-Reaching Career
Lynn McEntire of Chattanooga, TN has been collecting miniatures since 1968, and creating miniature porcelain Victorian baby and child dolls since the 1970's. Lynn individually molds each doll mostly in her own handmade molds created from her collection of antique miniature dolls. She incorporates beautiful silk ribbon, antique fabric and lace into her miniatures and dolls for a wonderful vintage Victorian look.
Lynn was thrilled to be featured in the miniature magazine Nutshell News (now Dollhouse Miniatures Magazine) in the mid-1980's. After many years of miniature shows in the U.S. and abroad, teaching classes, and gaining customers all over the world, she considers her trip to Japan last year courtesy of the Japan Miniature Guild to be the highlight of her career. (Lynn is a member of the Japan Miniature Guild.)
The Future
Her new passion is living miniature gardens. She is growing her own scale miniature plants, and creating a Fairy Garden in her back yard!  Please visit this link for pictures of her ongoing project.
Contact & Purchase
Upcoming Shows:
For more information regarding the dolls and miniatures she currently has for sale, please contact Lynn via email: choochoogal@att.net. You may also visit her web site for more pictures and information.
---
Copyright 2011 Kathryn Depew. Photos by Lynn McEntire and Kathryn Depew, used by permission.
Related articles
---