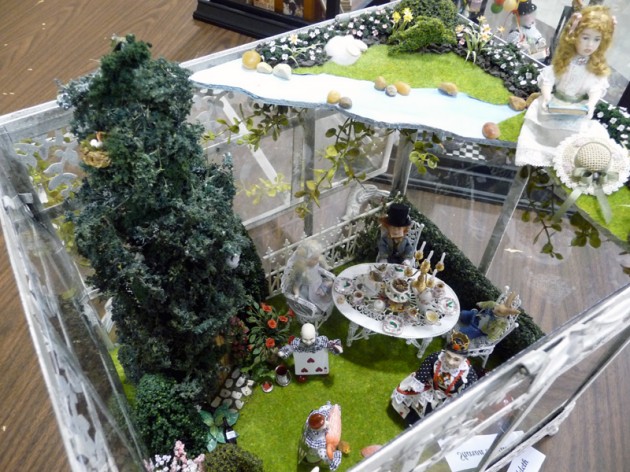 Two Friends
Sharon Suddeth and Sharyn Wood are two friends in Chattanooga, TN who are passionate about making miniatures, and love to work on projects together.  They each have an eye for detail and the talent to achieve wonderfully creative worlds in one inch scale.  They brought some of their recent projects to the Chattanooga Miniatures Society Fun Day in April 2012.  Sharon and Sharyn were kind enough to allow me to take pictures of their work and share them on this site!  Featured on this page are their Alice In Wonderland scenes.

Creating the Scenes
Sharon Suddeth used a decorative terrarium for her scene and Sharon Wood chose a display box, both from Hobby Lobby.  Sharon and Sharyn created the beautiful landscaping, flowers and other details from the Alice In Wonderland story (note Alice's sister reading a book in Sharon Suddeth's scene).   I love the little doors!  They also assembled and dressed the Queen of Hearts and Card Men.  It's fun and rewarding to create such miniature scenes alone, but even more so when working with friends who can stir your imagination and encourage you along!
Artist Credits
I would like to give credit to all of the artists and handcrafters represented; if you see a piece that you recognize that is missing information, please let me know!
Marla Gilbert: Mad Hatter dolls, Alice's sister doll (dressed by Sharon Suddeth), Queen of Hearts doll parts and Card Men parts
Lynn McEntire: Large rabbit doll
Marilyn Sledge: Desserts on three-tier stands and small plates
Falcon Miniatures: Flamingos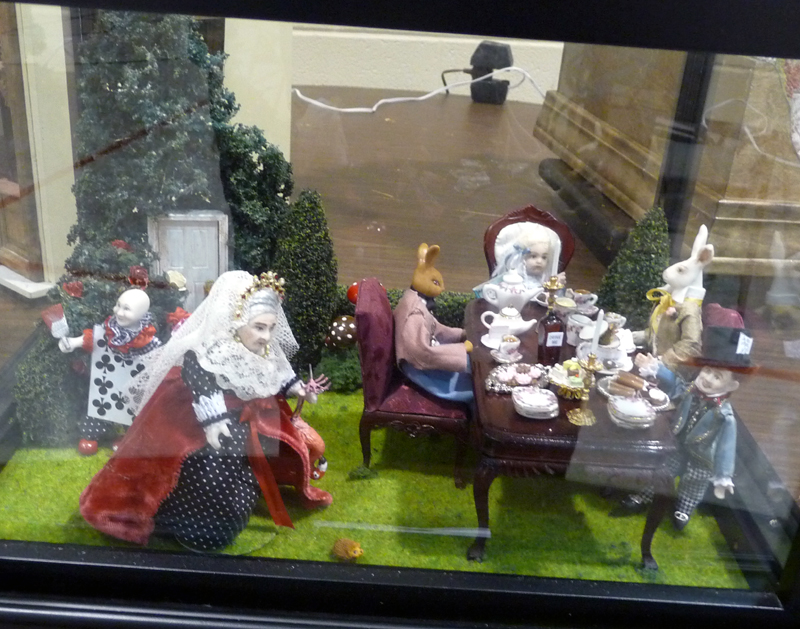 ---
Copyright 2012 Kathryn Depew
Would you like your artwork or handcraft featured on this site? Please contact me!
Back to the Miniatures Gallery
Related articles
---