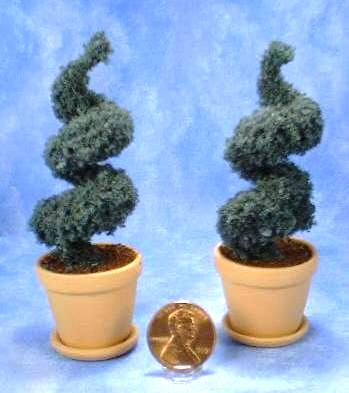 Miniatures & Supplies Needed Tutorial

2 Large Terra Cotta Urns or Pots & Saucers
Woodland Scenics Green Fine Turf landscaping material
Paperclay or Crayola Model Magic or other Air-Drying Clay
Woodland Scenics Fine Turf Soil or similar Soil Material, or dried used coffee grounds
Bumpy Chenille Stems (2)
Tacky glue
Pen or pencil
Spray Adhesive
Toothpick
Shoe or small box top
Wax Paper
Matte Spray Sealer
Instructions
** It is highly recommended that you use the spray adhesive and matte sealer outside due to the fumes. **
Place some glue in each pot. Fill with Model Magic or Paperclay almost to top of pot.
Cut a piece of wax paper to fit the bottom of your shoe or small box top. Empty bag of green landscaping material on wax paper in box top.
Cut each bumpy chenille stem in half. Twist ½" of each end of 2 halves together. Wrap the chenille around the pen or pencil (see picture). Slide off of pen or pencil, and shape to please, leaving about ½" of one end straight.
Spray chenille thoroughly with spray adhesive, and immediately coat with green landscaping material. Make sure you reach all parts of the topiary with spray adhesive and green material. Set aside to dry; repeat with other 2 halves of chenille stem for second topiary.
Spread a thick layer of tacky glue on top of clay in each pot. Spread coffee grounds on top of glue, pressing down with thumb, then shake off excess. Repeat for full coverage. Set aside to dry.
Check topiaries after they are dry to see if chenille was completely covered with green material. If not, spot-spray with adhesive and cover again with green material. Set aside to dry.
Once the topiaries are completely dry, spray thoroughly with matte sealer. Set aside to dry.
Punch a small hole in the top of the dirt and clay in each pot with toothpick. Place a small bead of tacky glue in each hole. Insert straight end of topiary in each hole, making sure topiary is straight. Glue pots to saucers with tacky glue.  Set aside to dry.  You're finished!
---
Copyright 2003 – 2012 Kathryn Depew
Have you tried this project? Please comment below and leave your ideas and suggestions! Would you like to share your creation? Please contact me!