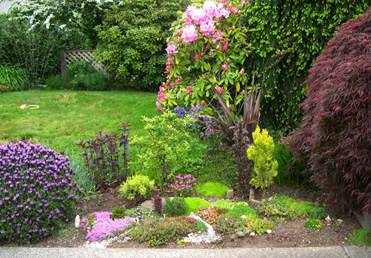 The Seed
Janit studied miniature gardening for years before forming Two Green Thumbs in 2001. Based in Seattle, Washington, she spent years building her business through garden shows, exhibits, club demonstrations and street fairs, introducing gardeners and miniaturists alike to the wonderful art of miniature gardening. Through club demonstrations, seminars and workshops in her studio, Janit has taught thousands of people how to construct and maintain a living miniature garden. Visit Janit's online shop and Mini Garden Guru Blog, and her passion for her art and generosity in sharing it with others will captivate and inspire you!
"Miniature gardening is the perfect blend of the two most popular hobbies in the world: gardening and miniatures. There is nothing else like it."
– Janit Calvo
Living Miniature Gardens
Miniature gardens are composed of slow-growing dwarf and miniature plants that can be combined with in-scale structures, brick pathways and patios. Dollhouse miniature scale furniture and accessories are often added to add even more detail and realism. Living miniature gardens are sustainable and can last for years when planted correctly. The plants and trees stay in scale with the miniature accessories and need minimal care.
Ten Year Anniversary
This month Janit celebrates the ten year anniversary of Two Green Thumbs Miniature Garden Center, and is leading the way into a new trend in the garden industry. Many garden center owners and growers call Janit for advice and follow her business model in their communities.
"Whatever you do make it fun. I love learning new things. Getting creative and combining the 'real' world…nature….with art makes it that much more inspiring and enjoyable."
– Janit Calvo
Join in the Fun!
Shop by category or by scale (one inch, half inch, or quarter inch) at the Two Green Thumbs online shop. Visit the Mini Garden Guru Blog and sign up for The Garden Gazette, a monthly newsletter that contains tips and information on miniature gardening. Be inspired by several pages of pictures of miniature gardens in the Two Green Thumbs Galleries. If you are a retailer, find out how to purchase miniature garden materials wholesale. And, you can join Janit on Facebook, too! Contact her by email: info@twogreenthumbs.com.
---
Copyright 2011 Kathryn Depew. Photos by Janit Calvo, used by permission.
Would you like your artwork, handcraft or shop featured on this site? Please contact me!
Related Articles