Well, my miniature gardens have (mostly) survived a two-week-long period of no rain, temperatures of 100 degrees, at least two thunderstorms, and re-location to the middle of the yard while the deck is sanded and re-stained!  Before dis-assembling the pot stacker and moving all of the pots, I took my miniature accessories inside for safe-keeping.
The three miniature trees I ordered during the rather mild summer we were having arrived a day before the 100 degree weather set in.  Sigh… Two Green Thumbs packed them very well and it only took a few days to receive them via Priority Mail.  They were all in great shape, but I was afraid to plant them in such high temperatures, so they've been sitting on my kitchen counter for more than two weeks!
I finally planted them today; the White Pygmy Sawara Cypress and the Jervis Canadian Hemlock fared just fine.  Unfortunately the roots of the Jean's Dilly Dwarf Spruce got a little moldy, and some of the tree branches turned brown.  I'm hoping now that it has some nice soil to grow in it will be happy!
The pebble pathways will have to be re-done in two of my gardens…planting the trees displaced some of the stones.  Next time I will wait until all the plants and trees are planted before setting the stones.  Or, I may try setting the pathway in concrete like Janit Calvo does in her miniature gardens.
---
Miniature Garden Guidebook: For Beautiful Rock Gardens, Container Plantings, Bonsai, Garden Railways
Fairy Gardens: A Guide to Growing an Enchanted Miniature World
Gardman R687 4-Tier Mini Greenhouse
---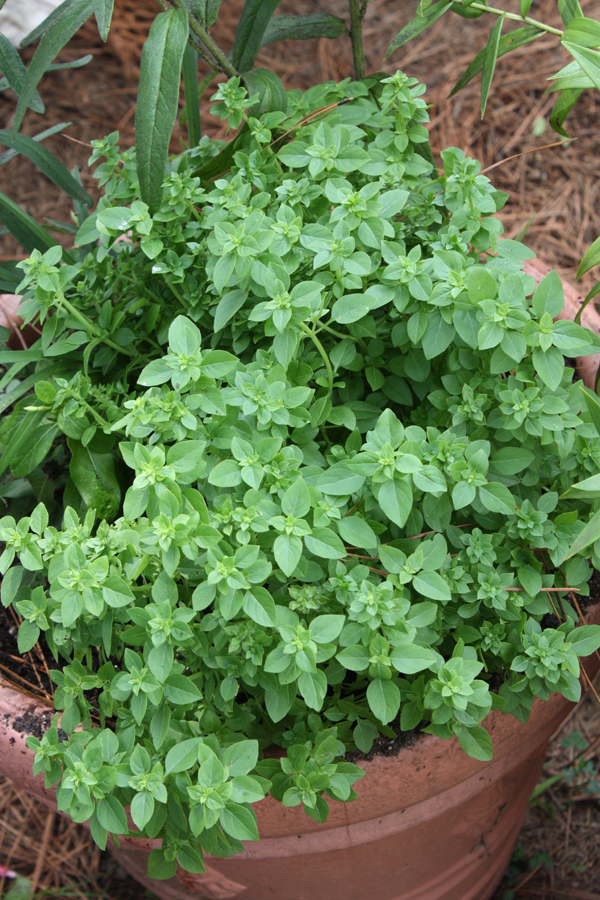 The pretty Boxwood Basil had to be removed from the two gardens in which I planted it – it grew way too big.  I'm not sure why I thought this would stay small – I've grown basil before and it almost took over my yard! This picture is of only 2/3 of the whole plant – the other 1/3 went home with my neighbor today.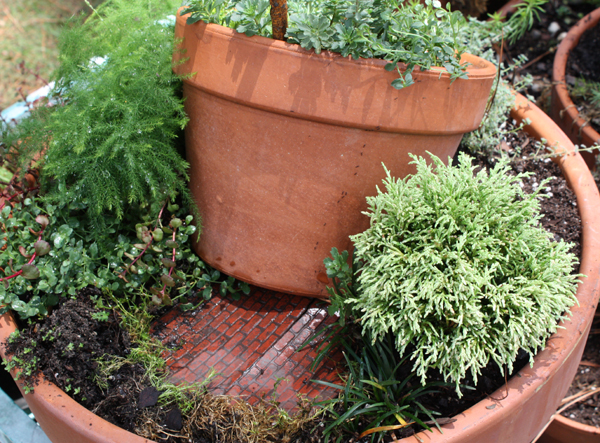 The White Pygmy Sawara Cypress looks nice in the place of the Boxwood Basil.  The Golden Scotch Moss ground cover that I liked so much has all turned brown except for a small bit.  A few other plants have turned a little brown or have disappeared altogether, but for the most part the gardens all appear to be thriving.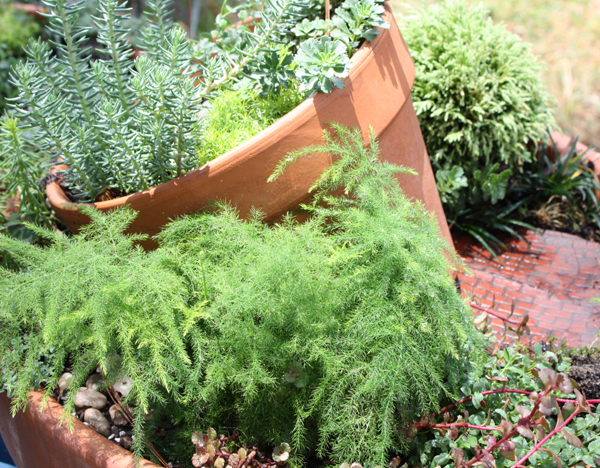 The Asparagus Fern that I bought on clearance for $1.00 has grown quite nicely, without taking over (yet).  Soon I may have to cut this back a bit.
Part 4 was supposed to have descriptions and images of my finished gardens, complete with the trees and miniatures accessories.  I've had a few setbacks, but nothing that can't be fixed.  I'm going to wait until I can move the gardens back on the deck before fixing the paths, filling in blank spots, and replacing the accessories.  Sometimes it's hard to be patient!
---
Copyright 2012 Kathryn Depew
Related articles