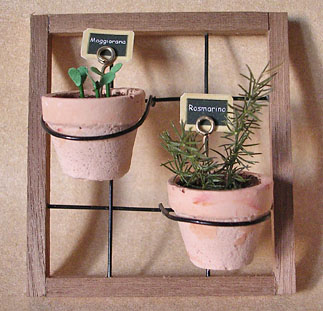 Dreams In Miniature…by Silvia Bolchi
I was introduced to Silvia Bolchi's handcrafted miniature accessories several years ago, and I was impressed with their realism and originality.  She creates many items that I've not seen elsewhere, including honey jars, inlaid trays, butterfly collections and more.   Silvia's web site features many more pictures of her work and also includes a tutorial that was published in La Bacchetta Magica (the instructions are in Italian, but they've included photos of each step).
Please click on the thumbnails above for larger views and several more images.
---
Microcrafts: Tiny Treasures to Make and Share
Dolls' House Accessories, Fixtures & Fittings
---
"My miniatures are born from the true, from all I can see and can inspire me.  They are born from the colors of the nature and simple materials like wood, straw, paper, cotton and wool. But also from ceramic, copper and aluminum.  They are simple objects but well-finished, in Country style."
"The favorite room is the kitchen, warm and comfortable, with biscuits, flour, sugar and coffee pots; with jam, honey and home-made preserves jars; spices and aromas collected from the garden.  In the garden you will find terracotta pots and vases of every shape and dimension, painted with pastel shades or decorates by hand."
Contact & Purchase Information
Visit the Sogni In Miniatura Web Site to view Silvia's miniatures available for purchase, or you may email her at silviabolchi@gmail.com.  She also attends the Miniaturitalia Dollhouse Fair.
---
Copyright 2012 Kathryn Depew. Photos by Silvia Bolchi, used by permission.

Would you like your artwork or handcraft featured on this site? Please contact me!
Related articles
Back to the Miniatures Gallery
---