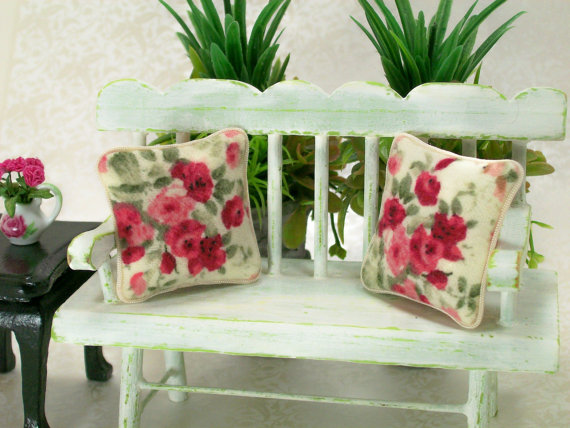 Realistic Home Decor in Miniature
Dale is a miniature artist specializing in miniature soft furnishings and accessories in one inch (1/12th) scale.  Her Etsy shop is full of beautiful miniature pillows, rugs, folding screens, ottomans, and seasonal accessories. She also has a second Etsy shop selling unique vintage books, buttons, fabric, jewelry and more.
Visit Dale's blog to keep up with her latest miniature creations!  She also shares miniatures from her own fine collection.  I found out in one post that she is a fellow fabric-lover (one of my favorite things to shop for is fabric, too)!
Contact & Purchase
You may keep in touch with Dale on Facebook or her blog, and join her mailing list by emailing dales_dreams@comcast.net.  Purchase her miniatures at Dale's Dreams Etsy shop, and vintage finds at Dale's Dreams II Etsy shop.
---
Copyright 2012 Kathryn Depew
Related Articles