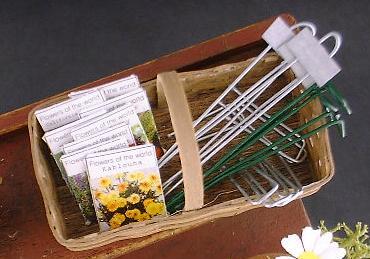 One Inch Scale Miniature Project: Plant Markers, Plant Stakes, Garden Staples and Seed Packets in Basket
You will need:
Miniature One inch Scale Al Chandronnait Market Basket or other similar basket
Miniature Seed Packets (Printables or from Kit)
Dark Green Wire (NOT cloth-covered)
Tin Color Wire
Index Card
Tacky Glue
Silver Metallic Paint
Long Needle Nose Pliers
Scissors
Small Scissors
Ruler
Project Instructions 
Plant Markers: Cut tin wire into 2-1/2" lengths, leaving about 6" of the wire uncut.  Using needle nose pliers, bend in half around the tip of the pliers (refer to photo).  Cut tiny rectangles from index card, measuring 1/4" x 1/8".  Glue 3/32" from top of bend in wire.  Repeat for remaining lengths of wire.  When dry, paint card metallic silver.  Set aside to dry.
Plant Stakes: Cut green wire into 1-3/8" lengths with scissors or wire cutters.  With one piece of wire, measure up 1" and bend the wire at a perpendicular angle using your pliers.  Then, using the needle nose end of the pliers and your fingers, make a small loop perpendicular to the stake.  Repeat for remaining pieces of wire.
Garden Staples: Using the 6" length of wire left over from Step #1, cut into 1" lengths.  Bend in half around the tip of the needle nose pliers (refer to photo or sample).
Seed Packets: Cut seed packets out, fold along lines and glue together.
Assemble in Basket: Glue items in basket as desired, or refer to photo.  Set aside to dry.
Weather Basket: After the glue is dry, if desired you can simulate dirt and wear by dry brushing the basket and contents with Raw Umber, Burnt Umber, Green Umber and/or Avocado.  You can also paint with a wash of one of these colors.
Have fun!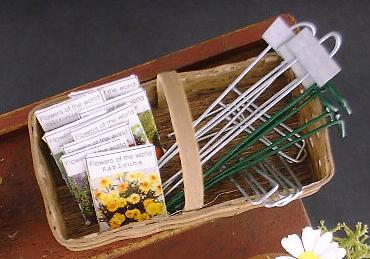 ---
Copyright 2006 – 2012 Kathryn Depew
Have you tried this project? Please comment below and leave your ideas and suggestions! Would you like to share your creation? Please contact me!
Related articles