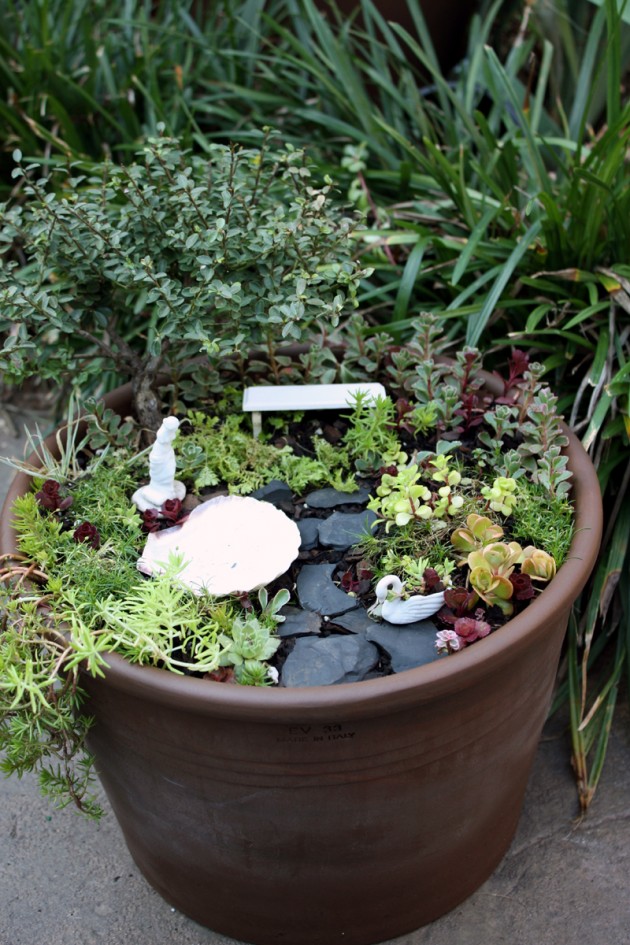 Last weekend I had the opportunity to visit Lynn McEntire and learn how to plant a living miniature container garden.  After enjoying a poolside luncheon near her beautiful in-ground miniature garden, we got started!
Supplies Needed
Large pot
Packing peanuts or other Styrofoam
Potting soil (we used Miracle Gro)
Miniature plants
Garden gloves
Small trowel
Small dowel or similar tool
Miniature garden furniture and accessories
Miniature pathway material: brick, stone, sand or pebbles
Sources For Miniature Plants & Accesories
Check your local Home Depot, Lowes or gardening center for low-growing plants and ground covers.  You can also  shop by category or by scale (one inch, half inch, or quarter inch) at the Two Green Thumbs online shop for both plants and accessories.

Step 1 ~ Fill the pot
Fill the pot one-third to one-half way with packing peanuts or other styrofoam pieces.  This allows for drainage, and makes the pot lighter and easier to move than pots filled only with soil.
Fill the pot to the top with potting soil.
Step 2 ~ Plant
Divide your miniature plants and plant as desired.  Lynn suggests planting your larger plants first, near the back of the pot.  She also suggests leaving room for a pathway and having a "stopping point," such as a bench and/or pond.
Use your hands or trowel to make a hole and insert the larger plants.  For smaller plants, use a small dowel (or pick, sharp end of small scissors, etc.) to make a hole.  Using a small tool to make the hole will prevent the plants you've already placed from being disturbed.
---
Resin And Metal Fairy Garden Accent With 11 Accessories
Miniature Garden Guidebook: For Beautiful Rock Gardens, Container Plantings, Bonsai, Garden Railways
Terrarium Craft: Create 50 Magical, Miniature Worlds
---
Step 3 ~ Add Scale Miniature Accessories
Continue planting until you are satisfied, then add miniature pathway stones, miniature brick, sand or pebbles to make a path.  Add scale miniature accessories to complete your garden, such as statues, bird baths, benches, ponds and small buildings.
For more ideas, instructions and tips, visit the Mini Garden Guru Blog and sign up for The Garden Gazette, a monthly newsletter that contains tips and information on miniature gardening.  Be inspired by several pages of pictures of miniature gardens in the Two Green Thumbs Galleries.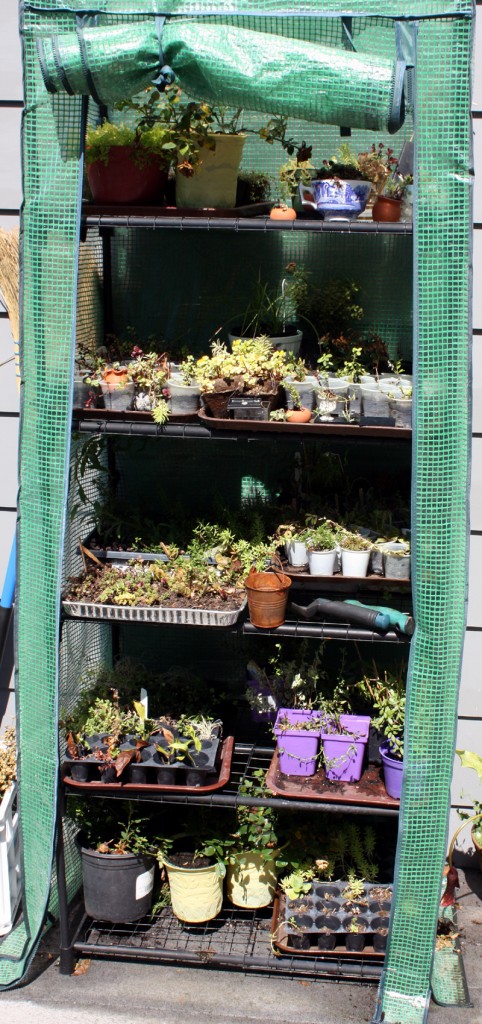 Lynn grew many of her own plants in her small greenhouse.
---
Copyright 2012 Kathryn Depew
Have you tried this project? Please comment below and leave your ideas and suggestions! Would you like to share your creation? Please contact me!
Back to the Miniatures Gallery
Related articles
---