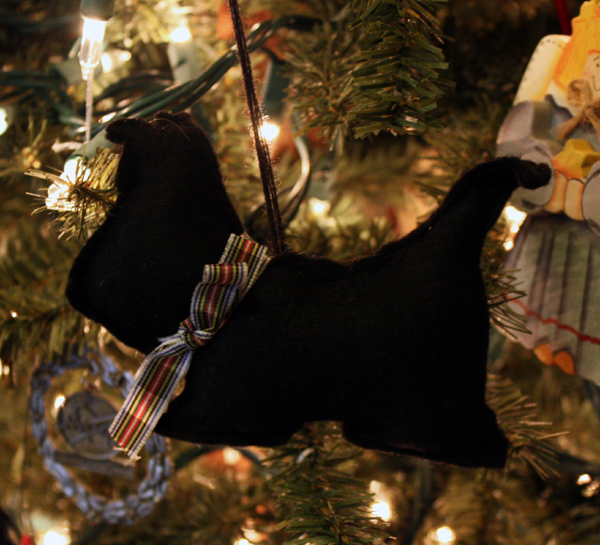 Crafty Inspiration
I'm planning a Christmas craft party for the kids this week, and one of the projects I'd like to make with them is a set of felt Christmas ornaments.  My Mom and I made felt ornaments when I was a child, and the texture of felt brings back good memories!
My plan is to use large Christmas cookie cutters as patterns – trace around them on paper, cut out the shape, then pin the paper shape on the felt and cut out the felt shape.  I just had a thought…I could use my Cricut Machine to cut out shapes for me out of cardstock, then we could trace around the shapes. Good excuse to buy a Christmas cartridge!
We will cut out two of each shape, sew them together and fill with stuffing.  I have buttons, ribbon and lots of other doo-dads to glue/sew on for decoration.  I'm anticipating the fun already!  Hopefully we'll have some nice pictures to post after our party!
Above is the felt Scotty Dog ornament that Mom and I made years ago, and below are several images from Flickr for inspiration!   See the Related Articles section below for more Christmas ornament ideas and tutorials.  You may also want to read the review I wrote on Craftsy's Christmas felt class.
[AFG_gallery id='2′]
Have fun crafting this season!
---
Copyright 2012 Kathryn Depew. Flickr images used under Creative Commons license (click on link under image for source.)
Related articles