Following are instructions for five Christmas ornaments that I or my Mom made over the last several years. Christmas is a time for nostalgia, and I'm remembering my Mom today!
A. 1980 Bell Ornament
This is one of my favorite ornaments – it's so homey and has good memories attached to it. My Mom and I made it when I was 12 years old!  Please note that these instructions are from a 1980 memory!  Also, I'm not an expert seamstress, so these instructions may seem a little awkward for those of you who are!  Please feel free to comment and correct any errors!
You will need:
Plain Pre-Quilted Fabric
Patterned Pre-Quilted Fabric
Bell Cookie Cutter or Stencil (or other shape)
Bell
Gold Cord
White Thread
Sewing Machine
1. Trace around the cookie cutter or stencil on the patterned fabric.
2. Place the patterned fabric right side up on the wrong side of the plain fabric (so that both fabrics are right side OUT.
3. Using a zig-zag stitch on your machine (set it so the stitches are very close together), sew around the traced line, catching a loop of gold cord at the top of the bell (see picture).
4. Cut out the shape as close to the sewn edge as you can without cutting the thread.
5. Hand-sew the bell in place, leaving about 1/2″ of thread – use several loops through the bottom of the ornament and the bell.  Then knot off in the fabric of the ornament.
6. Sign and date the back using a fabric pen.
B.  Felt Scotty Ornament
My Mom made this for me when I was in elementary school or junior high, when I was "in to" Scottish Terriers.  I received lots of stuff with scotty dogs on it for a few years!  I still love this ornament!  (See disclaimer in A above.)
You will need:
Black felt
Striped Ribbon
Black Thread
Thin Black Cord
Polyester or Cotton Stuffing
Scotty Template (or other shape)
White Fabric Pencil (Quilting Aisle at Hobby & Fabric Stores)
1. Trace the pattern on the felt using the white pencil and cut out – make two.
2. Machine or hand-sew the two pieces together, right sides out, as close as you can to the edge of the fabric.  Leave a small opening for stuffing.  As you sew along the top, sew in a loop of thin black cord for a hanger.
3. Stuff until firm, then hand-sew the opening closed.
4. Tie the striped ribbon around the neck.
C. Lace Wreath & Snowflake Ornaments
These are about as simple as you can get, if you can find the lace shapes!  I found these years ago, and as I remember they weren't expensive.  However I can't seem to find them on the internet – I'll look in my local Hobby Lobby next time I go.
Simply follow the directions on the bottle of Fabric Stiffener, add a Christmas ornament hook after it dries, and your finished!  Although a thin silk or satin ribbon would look nice as the hanger instead.
---
Country Living The Farm Chicks Christmas: Merry Ideas for the Holidays

55 Christmas Balls to Knit: Colorful Festive Ornaments–Tree Decorations, Centerpieces, Wreaths, Window Dressings
101 Christmas Cross Stitch Minis, Book 2 (Leisure Arts #5523)
---
D. Cross Stitched
Ornaments
I made these ornaments when I was cross stitching almost every day, back in 1996.  Those great ceramic buttons inspired these ornaments.   On the back of two of the ornaments I stitched "Christmas 1996" and my initials.  Red fabric back the other two.  I actually forgot about the hanger cords until after they were completed, so I just used a small gold safety pin to pin the cord on the back.  (I always hang these so you can see the back!)
You will need:
4 Ceramic Christmas Buttons (you can make your own)
Off-White Cross Stitch Fabric
Red Fabric
Cross Stitch Thread
Gold Cord for Hangars
Polyester or Cotton Stuffing
1. Before cutting the fabric into small squares, decide on a simple border for your ornaments.  You may follow the design in the pictures, or find one free at Cross Stitch Patterns.  Keep the size of your buttons in mind when you choose your border and alter it to fit if necessary.
2. Cross Stitch the four border squares on one large piece of fabric.  Leave about 3″ around each border.
3. Sew on one button in each of the four border squares.
4. Cut out each border square, leaving one inch fabric around each border.
5. Cross stitch the year and your initials twice, leaving about 4″ space between the two sets of stitching. Cut out two squares with each set of stitching in the middle of the square, the same size as your border squares.
6. Cut out two squares from the red fabric the same size as your border squares.
7. Machine or hand-sew about 3/16″ or 1/4″ from the edge of the border all the way around the border, except leave a small hole for stuffing.  As you are sewing, sew in a loop of cord for the hangar.  You can either sew in the cord in the middle of one of the sides or at the corner, depending on how you placed your button (see pictures).
8. Stuff each until firm, then sew up the opening.
9. Fringe each ornament by carefully pulling out the loose fabric threads around the edges.  Trim to approximately 1/4″ long.
E. Stoneware Clay Tree Ornament
Making stoneware clay tree ornaments is much like making large pendants.  When handling your clay ornament before it is dry, be sure to keep it as flat as possible to prevent warping in the kiln.
You will need:
Soft Stoneware Clay or Low-Fire Clay
Rubber Stamp or Other Texture Tool
Tree Cookie Cutter (mine is about 4″ tall)
Rolling Pin
Thickness Strips or hardwood strips approximately 1/8″ – 3/16″ thick
1. Sprinkle your work surface with cornstarch (a wooden surface is ideal).
2. Roll out your clay on the cornstarch between the measuring sticks.  Flip the clay over two or three times so both sides is lightly covered in cornstarch
3. Impress the clay with the rubber stamp or other texture tool – use firm and even pressure, but don't press down too hard or too far.  It takes a little practice, and you may have to start over and try again a few times before you are happy with the impression.
4. Cut out the tree shape with cookie cutter.  Carefully move to a wooden ware board to dry.
5. When it is almost leather-hard, use the drill bit to make a hole in the top of the ornament.  Or, insert a loop of Kemper High-Temp Wire, 24 guage.
6. Bisque fire, then glaze with your choice of glaze.  (I used Cone 06 Green Sapphire by Mayco.)
7. Scrape out excess glaze from the inside of the hole with the Double Ended Pin/Carving Tool, then hang on a Kiln Bead Tree or Bead Rack and Glaze Fire according to the glaze manufacturer's directions.
Hope you have fun with these!
More Simple & Fun Christmas Ornament Ideas From the Web: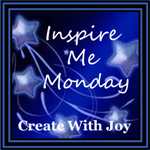 ---
Copyright 2011 Kathryn Depew