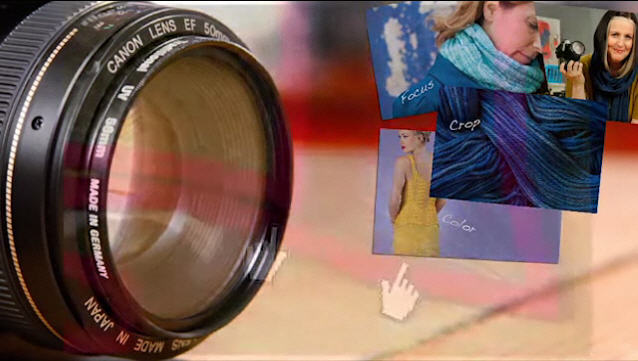 An Interactive Platform
After my photography lessons with Joe, I was excited to find this Shoot It! A Product Photography Primer class on Craftsy.  Joe and I didn't cover product photography, so I thought the Craftsy class would be a great follow-up and purchased it last month.  I just had a chance to watch the videos a couple of days ago, and was very happy that I had made the investment.  The class delivered what it promised, and I learned several tips that will help me better photograph my pottery and jewelry for my Cotton Ridge Pottery Etsy shop!
Before I delve into my review of this particular class, I wanted to mention a few features of the interactive Craftsy platform:
Once purchased, you own the class forever.
High-quality video and sound.
Chat with the instructor and other students.
Use the 30 second repeat feature to view a segment over and over again to your heart's content.
Share photos of your finished projects and see other students' photos as well.
Take notes (the video automatically pauses when you start typing).
Download course materials.
Read and write reviews of each online class.

Class Review: Shoot It! A Product Photography Primer
Watching this class was a little like sitting down with the instructor, Caro Sheridan, in her studio, except that I wasn't able to talk back to her!  However, I can watch the video as often as I like, and can chat with her online if I have questions later.  As an instructor Caro is engaging, and she experienced in photography, fiber art, and creating knitting patterns.  Here is a synopsis of the class:
Motivations & Style
Color Theory
Composition
Shoot Prep
The Shoot
Camera Settings
Editing
Post Processing
Bonus: Self-Portrait Tips
I enjoyed the entire class and learned a lot – and it so nice that I can go back and watch the video segments again for a refresher in the future.  What I found most helpful was the sample product photo shoots: both with and without a model.  I honestly hadn't thought of using a model before when photographing my jewelry for Etsy, but I'm seriously considering it now.  For those of you who sell patterns, she talks extensively about what to think about during the photo shoot that will help you sell the pattern to customers.
Here are several notes and tips that I picked up while watching this class for the first time:
Customers buy on emotional triggers.
Motivation types: practical, aspirational, inspirational.
Tips on finding your own style.
Color Theory: Color affects the way that you read something.  Combine colors that you like, and use a color wheel for guidance.
Caro featured many examples of good pattern and product photos in the video.
Great ideas on composition including explanation of the rule of thirds.
Many, many tips on preparing for a photo shoot.  Talks about property and model releases – you can use a phone app or online pdf file.
Sample photo shoots with a model and with products. Lots of great tips and advice for backdrops and posing.
How to choose unique backgrounds for product-only shoots.
Good overview of the technical features of a camera – depth of field, aperture, shutter speed, F#, etc.
How to pick the photo that will grab attention and show off your product – choosing your "hero" shot.
Good overview of post-processing of images.  (Not the last word on processing, but a very good introduction.)
Tips on how to stay organized and suggested work flow in downloadable course materials.
Adding keywords to image file names for search engine optimization.

Conclusion
I would recommend this class to anyone who sells online and takes their own product pictures.  Whether you have a DSLR or a point-and-shoot camera (that's how I started out – and Caro, too) it is well-worth the $39.99 investment.  If this doesn't fit in your budget right now, Craftsy does have special sales every once in a while.  I try to announce these on this site – please subscribe if you'd like notification!
Craftsy offers many different online classes and projects in a variety of crafting genres and price ranges – and if you'd like to try one before you buy, there a few free classes available!  Craftsy also offers a money-back guarantee – try one today!
---
Copyright 2012 Kathryn Depew
Disclosure: I was compensated for this post and will receive a small commission if the links above are used to make a purchase.  Nevertheless, my opinions are 100% my own and may differ from yours.  I purchased this class last month, and I was given another class by Craftsy at no cost to review.  I will be reviewing this class: Fab Felt Holiday Crafts very soon!
Related articles