Earlier this month we had the opportunity to visit my Aunt and Uncle, Sandee and Dean Ostheller, at their home in rural Missouri.  Along with a wonderful visit with relatives, I enjoyed two of my favorite things: nature and art. And after 20 years of wishing, I was finally able to visit the Kansas City Toy & Miniature Museum!

Beautiful Scenery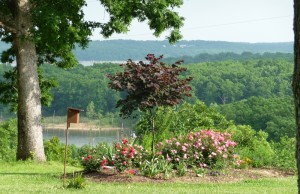 A beautiful view of the Truman Dam
and surrounding area from my Uncle & Aunt's street.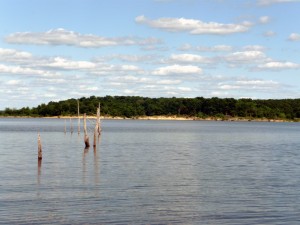 Another view of the Truman Dam
near my Uncle & Aunt's house.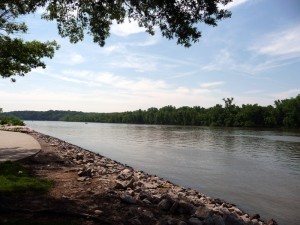 The Warsaw, MO waterfront is just a block or two from downtown and has a nice walkway, playground for the kids, and lots of nice grassy areas.
The Toy And Miniature Museum of Kansas City
The Toy and Miniature Museum was created by two women – Mary Harris Francis and Barbara Marshall – who wanted to share their amazing collections with others.  If you are interested (even slightly) in antique dolls, toys or dollhouses, or in fine contemporary miniatures, I highly recommend a visit to this museum.
I had longed to visit ever since I'd heard of it 20 or so years ago, and I wasn't disappointed!  The antiques were fascinating – I particularly liked the dollhouses, of course – and the collection of contemporary scale miniatures
was the finest I'd ever seen.  Given the opportunity I'll go back in a heartbeat, and plan to spend more time.
Admission was reasonable at $7.00 per adult.  You can check the current admission rates and hours on the museum's web site.  "Like" the museum's Facebook page to keep up to date with current events and new exhibits.  (For example, there is an "Adventures In Learning" program going on this summer for kids.)  Allow yourself at least 1-1/2 hours for a self-guided tour; if you are a miniature enthusiast, give yourself at least 3 hours to soak it all in!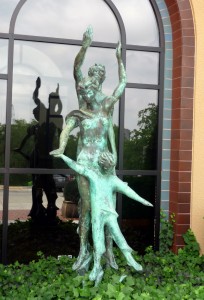 A striking statue near the front entrance of the museum.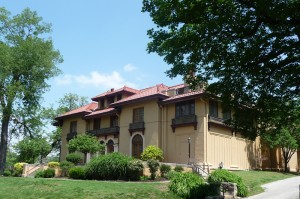 Side view of  The Toy and Miniature Museum, housed in the 38-room Tureman Mansion on the University of Missouri – Kansas City campus.  It is located a few blocks south of the Country Club Plaza shopping and entertainment district.
Deanna Rose Children's Farmstead
The Deanna Rose Children's Farmstead in Overland Park, Kansas is located on 12 acres, about 20 minutes from The Toy and Miniature Museum. It not only has many attractions for kids, but many features to draw their parents as well, including beautiful gardens and a one-room schoolhouse. At the time of this writing, admission is FREE during the week, and $2.00 per person on Friday, Saturday and Sunday. Food prices were reasonable as well: simple sandwich lunches, hot dogs, ice cream and more are available.
The following is quoted from the Overland Park web site:
"Designed to depict a turn-of-the-century family farm, the Deanna Rose Children's Farmstead has almost 200 animals and birds of prey, vegetable and flower gardens, a one-room country schoolhouse, an old-time fishing pond, pony rides and more."
"With the Kansas family farm slowly disappearing, the 12-acre "Children's Farmstead" opened in 1978 and was re-named in 1985 to honor Deanna Rose, the first Overland Park police officer killed in the line of duty."
"Deanna Rose's legacy was to bring the charm of the farm to children living in the city. Children treasure such memories as bottle feeding baby goats, milking a cow and taking a horse drawn wagon ride through the woods."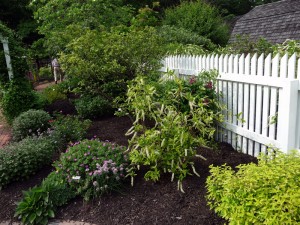 Beautiful gardens were planted over much of the acreage.  There was a wonderful Cottage Garden
– complete with a little white cottage!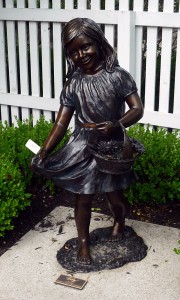 Life-size bronze statue in the Cottage Garden.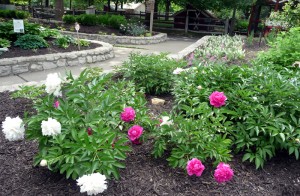 Our visit was quite enjoyable despite the heat (we visited in the afternoon on a hot day – but it was a good excuse for ice cream). There were many areas for children to interact with animals and other aspects of farm life. If we have the opportunity to visit again, hopefully we will be able to spend a few hours (and let's wish for a cool day while we're at it!)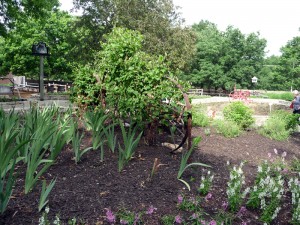 Great idea for a vine trellis!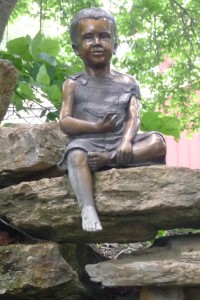 Boy With Frog by Tom Corbin perched near a beautiful waterfall.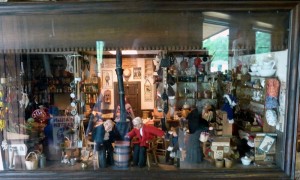 Miniature General Store inside the full-size Farmstead General Store!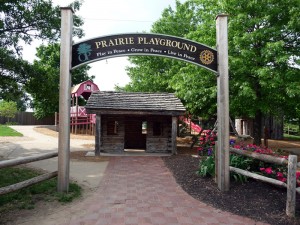 One of the several areas on the Farmstead where kids can just play!
Last Images From Missouri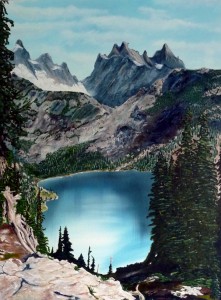 Oil painting of one of the Bower Lakes, painted by my Uncle Dean Ostheller, after a 50-mile hike!   Read about his story and paintings on his portfolio page.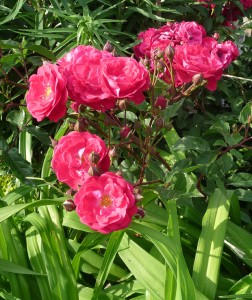 Knockout Roses
in my Aunt & Uncle's back yard.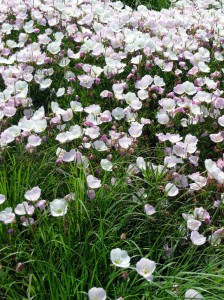 Missouri Primrose
---
Copyright 2012 Kathryn Depew
Related articles