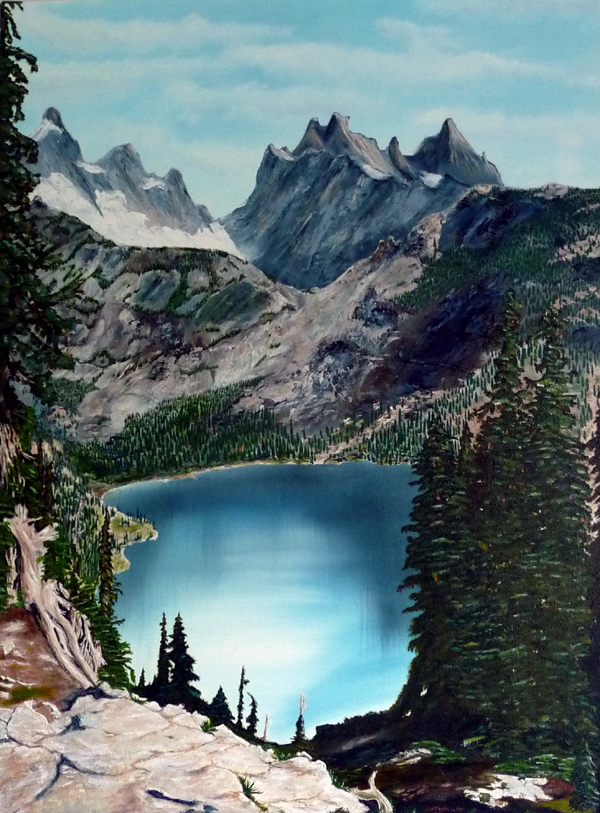 Dean Ostheller (my uncle) began painting primarily with oils in the 1960's.  Mostly self-taught, he was inspired by friends and fellow artists Ray Swanson and Doug Van Howd early in their careers.  Dean is a taxidermist and bird mounts are his specialty –  he would trade these for paintings by Swanson and Van Howd.
Dean is an avid outdoorsman and nature lover.  He met Ray Swanson through his brother Gary, who was also a taxidermist.  On a Catalina Island bow hunt organized by the Swanson brothers, he met Doug Van Howd.  Dean worked for the U.S. Forest Service for over 20 years in Washington State, and he and my Aunt Sandee carved a homestead for their family out of the rugged woods near Cle Elum in the 1970's.   He once hiked 25 miles to one of the Bower Lakes to paint!  Now living near Truman Dam in Missouri, their rear windows overlook a beautiful lake and forest.
---
Art & Nature
Living Landscapes
Art & Nature: An Illustrated Anthology of Nature Poetry
---
Dean stayed in touch with his artist friends and has collected their artist promotional postcards and materials since the 1960's.    As we browsed through his collection I could also see how their talents and subject matters grew and evolved over time.  As an artist I'm always looking for new and creative ways to present my work; it was so interesting to see how they did it 50 years ago!  I'm looking forward to visiting again and hearing more stories.  It's funny how as I get older my relatives get more interesting – or am I just now learning how to listen?
---
Copyright 2012 Kathryn Depew
Would you like your artwork or handcraft featured on this site? Please contact me!
Related articles
---