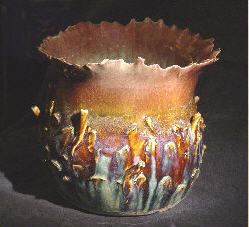 Ceramic Artist & Teacher
Paul Wieland of Nascent Pottery in Huntsville, Alabama creates unique pieces and is generous in sharing his techniques and experience.  Since the closing of the Madison studio, he has remodeled his garage into a pottery studio and is teaching classes and workshops on weekends.
Paul instructs a variety of wheel-throwing, tile-making and hand-building classes.   Students are offered choices such as Basic Hand-Building Techniques (including coil, pinch, and slab), Put a Lid on It!, which covers basic styles of lids, Tile-Making, Dinnerware Sets and Double-Walled Vessels.  I highly recommend Paul's classes – I have taken several, and about half of what I know of ceramics I learned from him!
---
250 Tips, Techniques, and Trade Secrets for Potters: The Indispensable Compendium of Essential Knowledge and Troubleshooting Tips
---
Contact Information
For more information on Paul's work and his current class schedule please visit his web site Nascent Pottery or email him at paul.wieland@yahoo.com.
---
Copyright 2012 Kathryn Depew. Photos by Paul Wieland, used by permission.
Would you like your artwork or handcraft featured on this site? Please contact me!
Related articles
---