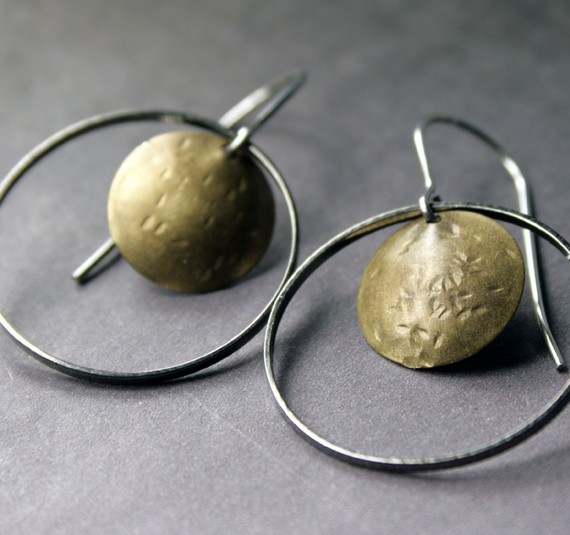 Valerie Tyler creates unique wearable art;  I was immediately drawn to her artistic pieces with their textures and simple lines.  Find more of her stunning work on the Valerie Tyler Designs web site.  She currently resides in Cleveland, Ohio.
About the Artist
Valerie loves to create jewelry that is textural or sculptural. Each piece is primarily created by hand using primarily sterling silver but she also incorporates metals like gold, brass or bronze. She loves to experiment with linear design and geometry, and combine both industrial and natural elements in her work.
In her eponymous line, Valerie Tyler Designs, she creates every piece entirely by hand. Even her textures are all hand-forged with various small tools
versus the use of a rolling mill. She likes to get creative in how her pieces are connected and will frequently use riveting or fold-forming to create uncommon sculptural shapes.
In addition to her main Valerie Tyler Designs line, Valerie is also the creator behind Miscellanea, a collection where she explores current design trends, incorporates vintage and assembled components and unique or raw gemstones.
You can currently find Valerie's creations online at www.valerietylerdesigns.com and may have seen her in the past at various art shows throughout Ohio.  Most recently she won a Judges Selection Award at the Cain Park Arts Festival. With a baby due any day she's slowed down exhibiting at shows and will be taking a short maternity leave, but she's excited to be a juror for an upcoming Cleveland Art Show, as well as planning to launch a new exciting addition to her jewelry line in 2014.
Connect With Valerie
Etsy Shops
Valerie Tyler Designs and Miscellanea By Valerie
Social Media
Blog ~ Twitter ~ Facebook (Miscellanea) ~ Facebook (Valerie Tyler Designs) ~ Pinterest
---
Text and Images Copyright 2013 Valerie Tyler, Used by Permission