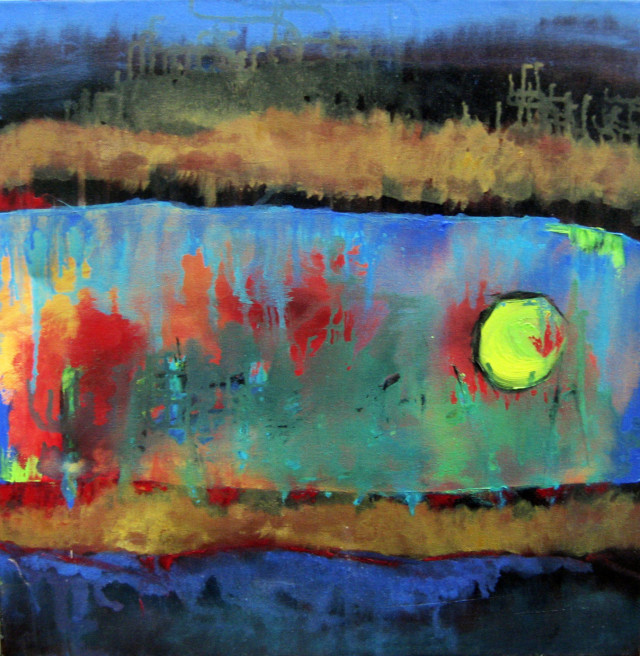 Terrie lives in Knoxville, Tennessee, and her paintings reside in the homes of collectors across the country and internationally.  Visit her Etsy shop to see more of her original work!
The Artist and Her Work
As long as I can remember I have enjoyed drawing and painting. Portraits were always my focus before I entered college. I am a graduate in studio art from the University of Tennessee, since graduation I have been focusing on the subject of crows, cityscapes, and abstracts. I primarily use oil paints but love to experiment with different medium.
I've combined tribal and urban archetypes in my paintings to create a conceptual workspace merging dream and nature in a unified artistic sphere with many destinations. These destinations, or dimensional intersections, are starting points for stories that pose questions concerning the junction of dreams and reality. Look closely in my paintings and you will see the layered totemic symbols drawn from life which I use as a guide through dreams and reality, driving my work towards a threshold or epiphany fraught with drama, anticipation and apprehension. I envisioned my work as a symbolic narrative. The allegory is told through the systematic application of broad strokes creating a labyrinth of depth with colors that are active and still. My paintings portray progress from one stage of life to another.
Connect With Terrie
You can see more of Terrie's paintings by visiting her web site and Etsy shop.  Follow her on Facebook, too.
---
Text and Images Copyright 2013 Terrie Boruff Yeatts, used by permission.