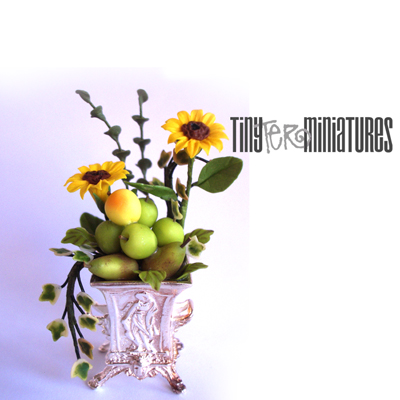 Miniature Artist

Teresa Martinez creates wonderfully realistic scale miniatures – food, kitchen accessories, flowers, holiday accessories and more.  In 2008 she was recognized by the International Guild of Miniature Artisans (IGMA) in the category of Food.  In "real life," Teresa has a passion for cooking.  She believes that her knowledge of food and its preparation enables her to create extremely realistic miniature food and kitchen accessories.  One look at her online gallery, and you will believe it too!
"Working with miniatures is one of the most rewarding tasks I could ever do. I truly believe that the countless hours invested in investigating and elaborating my tiny creations have been worth spent."
Teresa has been selling her work since 2005, and participates in miniature shows –  including the Kensington Dollshouse Festival in London, Tom Bishop Show in Madrid and Miniaturitalia in Milano.  Keep up with Teresa's show schedule and new miniature creations through her Facebook Page and Blog.  (And if you are an aspiring polymer clay artist, don't miss her mini-tutorial on the conditioning of clay.)  Teresa lives in Barcelona, Spain.
Click on the thumbnails above for many more images and larger views.
Contact Information
Email: tinyter@hotmail.com
Phone:  665 804 900 (Barcelona, Spain)
Tiny Ter Miniatures Web Site
Tiny Ter Miniatures Facebook Page
Tiny Ter Miniatures Blog
---
Copyright 2012 Kathryn Depew. Photos by Teresa Martinez, used by permission.
Would you like your artwork or handcraft featured on this site? Please contact me!
Related articles