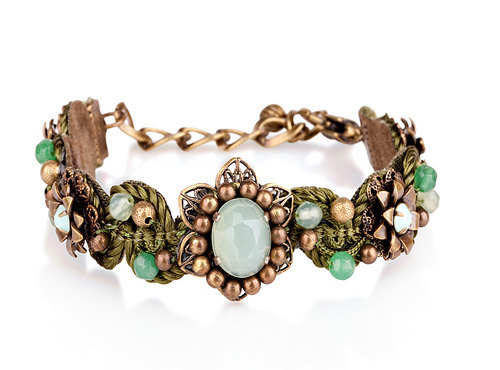 Talila loves working with her hands and has been crafting ever since she can remember, accessorizing shoes and bags with beautiful beads and stones.   Talila currently resides in Tel Aviv Yaffo, Israel.
About The Artist
Talila learned auto mechanics in high school, and was always looking for things to fix.  She served in the army, but dreamed of designing bridal jewelry
and waited patiently for an opportunity.  She began designing and creating jewelry in 2006 during her first pregnancy.  She had just lost her job and thought it would be possible to design and work from home and stay with her baby boy.  Wedding fairs were her first venue, and she also sold her work through consignment shops.  Currently Talila sells her exquisite jewelry through the Talila Design Etsy Shop, and writes for her beautiful wedding blog.
I am inspired by everyday life, fashion trends and various cultures from around the world. Being an art designer I am able to fulfill myself in working and doing what I enjoy, to transform it into an integral part of my daily life and to share it with so many people.
She draws strength from being a mother of two children;  she has a 6 year old son with autism, and dealing with his disability occupies her day.  He is a happy child full of love, and every day is about encouraging him to progress a little further.  She also has a 10 month old baby girl that is keeping her busy and filled with love and inspiration!
Connect With Talila
Wedding Blog  :  Facebook  :  Etsy  :  YouTube  :  Pinterest  :  Twitter
---
Written by Talila of Talila Design, and edited by Kathryn Depew.  Text and Images Copyright 2013 Talila Design, used by permission.