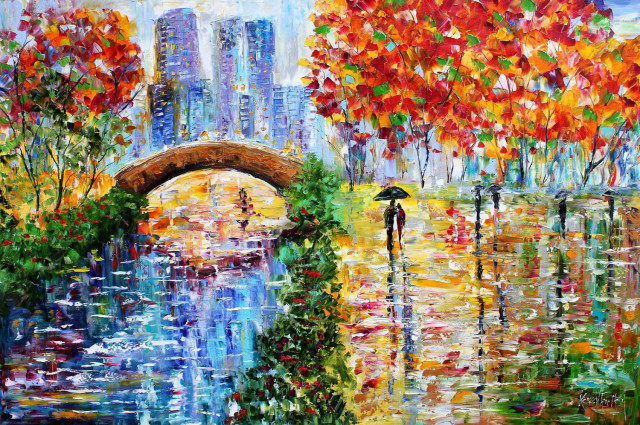 Karen Tarlton has been a professional artist for over 20 years and currently resides in Manhattan Beach, California.  I was immediately drawn to her impressionistic style and use of color.  Be sure to visit her Etsy shop to view more of her beautiful original oil paintings and art prints.
About The Artist
I've been a professional artist for over 20 years and selling on line since 1996. I paint every day, and when I'm not painting I am thinking about painting. Each morning I load my palette with paint, turn on some classical or jazz music, and create from my heart! Every painting is unique and comes from within; inspired by my travels and everywhere we have lived, as my husband's military career has moved us 17 times in 23 years. Along the way I've given private painting lessens to both children and adults and volunteered in many schools both painting murals on school walls and teaching art.
I believe real mastery of the arts comes with years of practice and I have matured as a painter over my 23 years as a professional artist.  I began daily painting in 2002 and have thoroughly enjoyed the freedom gained by painting frequently. I feel strongly that if there is a secret to improving, it's painting every day. Presently I enjoy scenes and imagery of romance and light, intimacy and energy. I have a loose, painterly style, using exclusively a palette knife for most of my paintings.
I've painted whimsical animals and figures, textural florals and scenes from California and around the world for nearly twenty years. I feel blessed to have had the opportunity to study the artwork of master painters in Washington D.C., Virginia and California. Although my focus has been Central California and its beautiful coastline, my trips to Europe have provided a new dimension to my art in terms of subject matter and application. I work primarily on canvas in oil with a palette knife, using this technique for 12 years. My techniques allow for interesting textural possibilities and complex color layers in an expressive, impressionistic style which borders on abstract. My oil paintings express my appreciation of nature with a simple intimacy. Using a palette knife I integrate light, color and texture as influenced by many years of plein air landscape painting.
My works are collected through galleries, and private collections worldwide.
Connect With Karen
Keep up with Karen and her new work and travels on her Blog! Watch her video on YouTube, and  follow on  Facebook and Pinterest. Drop by her Etsy shop to view more of her beautiful original works and art prints, too.
---
Text and Images Copyright 2013 Karen Tarlton, used by permission.