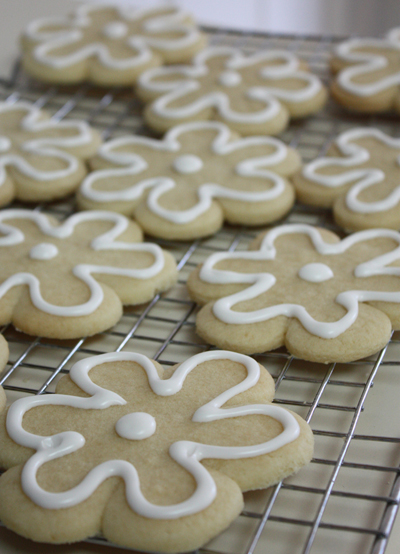 Making cookies with kids is a classic rainy-day (or hot summer day) activity!  Kids learn a bit about mixing and baking, and then get to decorate the finished cookies.  Use cookie mixes when you are short on time (or patience). 
Although I normally make cookies from scratch, I saw cookie mixes in the grocery store and decided to try two of them for cookie favor bags needed for a party this weekend.  I picked out the Betty Crocker Sugar Cookie Mix and the Krusteaz Bakery Style Sugar Cookie Mix.
I made the cookies today and am pleased with both of them, although overall I prefer the Krusteaz brand a little more for taste and handling.  Both kits recommend adding some flour for rolling the dough for cut-out cookies, but the Betty Crocker brand mix was still too sticky.  If I had more time I would have let it set in the refrigerator for awhile.  I liked the taste of the Krusteaz baked cookies better, but would buy the Betty Crocker brand again if Krusteaz wasn't available.
Additional notes:
Both packages call for 1/2 cup (one stick) butter or margarine, one egg, and some flour if the dough is to be rolled out.
The Betty Crocker package clearly stated "Do Not Eat Raw Cookie Dough," so I didn't.  (If you believe that, I have a bridge to sell you.)
The Betty Crocker dough turned out a little "poofier" than Krusteaz, but I think it was because my little helper turned the oven down to 325 degrees after the Krusteaz cookies were baked.
I piped Betty Crocker Cookie Icing on all of the cookies – I was pleased with the taste and consistency, although I do need to work on my piping skills!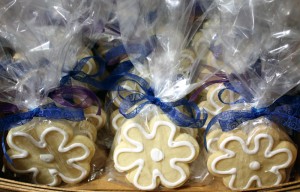 Notes To Self:
1.  Be sure that the cookie cutter you use does not make cookies bigger than your favor bags.
2.  Be sure to have larger favor bags on hand, in case you forget #1.
---
Copyright 2012 Kathryn Depew
Photos of packages provided by Amazon.com
Have you tried this project? Please comment below and leave your ideas and suggestions! Would you like to share your creation? Please contact me!
Related articles