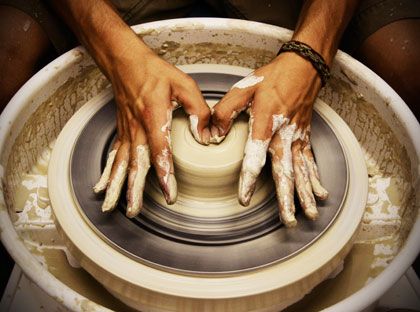 Thank you to the folks at Elk Springs Resort for this wonderful article about the Gatlinburg Fine Arts Festival, held this Labor Day Weekend!
The annual Gatlinburg Fine Arts Festival will be a three day long event that runs on the Labor Day weekend from August 31st 2012 to September 2nd 2012. In its eighth consecutive year, the festival has proven to be quite the crowd pleaser and community supporter.
A selection of artists from around the country are selected by jury in sixteen different categories of art that include various forms of painting, glass work and sculpting to be showcased at the festival each year. The festival has begun to draw visitors from far and wide with its ever changing group of showcased artists that offer up the chance to view a variety of different art forms every year that some, may otherwise, not have access too. The event boasts free admission and has become a wonderful opportunity for the artists to broaden their fan base and diversify their clientele, all in one serene location.
The festival is held in a picturesque location at the base of the Smoky Mountains National Park where the artists have come to regard an invitation as a high-profile honor and a chance to compete for $10,000.00. There are activities to enjoy and a program for children to participate in that includes face painting and kids crafts. This event has become an integral part of the Gatlinburg community and is also a fantastic fundraising opportunity for the Boys & Girls Club, the Fine Arts Council and the local arts school, Arrowmont.
Something that separates the Gatlinburg Fine Arts Festival from similar festivals is the way in which they provide opportunities for the artists and festival-goers to intermingle and get to know one another. Each year, one evening of the festival is reserved for a "Night with the Artists" party; although this aspect of the weekend does cost fifty dollars to participate in, the money is returned to investors to use as a voucher at any artists booth. It's a combined effort to get the crowd more involved while also encouraging the donors and investors to continue their support.
If you consider yourself to be a crafty person or are developing an interest in some easy do it yourself projects then you will be happy to know that you can see some live do it yourself demonstrations at the Demonstration tent. This may be a good opportunity to ask questions and pick some brains if you are feeling so inclined. Whatever your reasons for checking out the festival; whether you're looking for some unique art to purchase or you just want to entertain the kids and peruse the wares for the day, you won't be disappointed.
This family friendly, outdoor affair is the perfect way to spend the Labor Day weekend while also supporting the fine arts community, not just in Gatlinburg but country wide. Whether you prefer ceramics, pottery, watercolor or photography, there is a niche for everyone to enjoy. This year the festival is offering food selections from The Texas Roadhouse and live Appalachian style music in the market like centre of the city.
---
Guest Author: Elk Springs Resort 1088 Powdermill Road Gatlinburg, TN 37738 | Phone: 865-233-2390 | Enjoy privacy and mountain views while relaxing on your vacation in one of our secluded luxury cabins located in a private 68 acre resort setting. We're nestled in the historic Arts and Crafts Community and border the Great Smoky Mountains National Park.
Text and Image Copyright 2012 Elk Springs Resort
Related articles