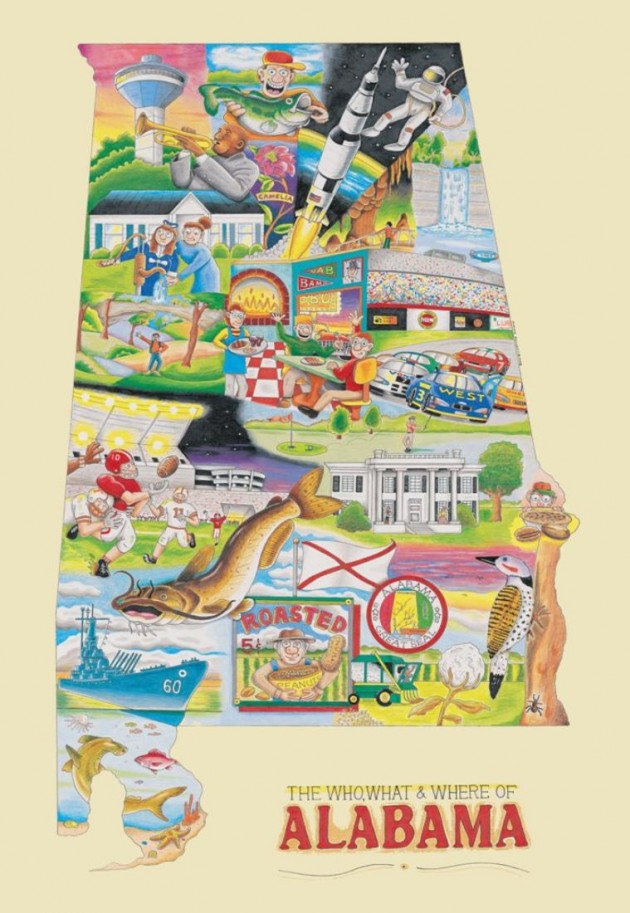 Shawn is a member of Ascribing Artists.
With ink and colored pencil Shawn Doughty creates unique and delightful collages that portray the people, places and things of a particular city or state.  Each piece is researched thoroughly and takes nearly six months to complete. Prints and post cards are then created from the original art, and a legend on the back of each print or card describes the people and scenes depicted.
Shawn's collages make wonderful gifts and conversation pieces – and are a great way to show pride in your heritage!  Visit his Facebook page and Blog Site for updates on his new projects and art shows.
Upcoming Projects
Green Things and Butterfly Wings
Shawn has been asked by the Huntsville Botanical Gardens to participate in "Green Things and Butterfly Wings."  His six foot tall butterfly sculpture will have a similar theme as his Huntsville art piece, and will be on display at the gardens during the summer of 2012.
United States Art Collage
"The United States art collage is a monster project I have been dreaming about doing for sometime.  This piece will take nearly two to three years to complete and will encompass hundreds of scenes that I hope will encompass the essence of our country's spirit.  The final piece will be roughly four feet wide and nearly six to seven feet long.  I am extremely excited and honored to try and tackle this piece and I pray that I can do it the justice it deserves.  If you have anything you want to see included on this piece that would be a great tribute to the spirit of our country please let me know.  Please enjoy!"  Click here to see Shawn's story board concepts for this piece.

Features
April 2012 – Valley Planet Magazine Cover
August 2011 – Jamie Cooper Show (Athens, AL)
September 2010 – Jamie Cooper Show (Athens, AL)
September 2010 – Athens New Courier
2007 – Alabama Year of the Artist
May 2007 – Featured Artist, Huntsville Art Blog
---
80-Piece Professional Art Set
Drawing and Sketching Pencil Set In Zippered Carrying Case
The Colored Pencil: Key Concepts for Handling the Medium, Revised Edition (Practical Art Books)
---
Ordering & Purchasing Information
Who, What & Where State Art web site
Email: whowhatwhereart@yahoo.com
Art Shows (follow on Facebook)
Wholesale Inquires: Please email Shawn for bulk wholesale prices on prints and postcards.
Who, What & Where State Art is also available at these locations:
Southern Hospitality Magazine's Charm & Grace Online Store
Pablo's
Kindred Spirits (Athens)
Athens-Limestone County Visitors Center
The Greater Rome Convention and Visitors Bureau in Georgia
---
Copyright 2012 Kathryn Depew.  Images by Shawn Doughty, used by permission.
Would you like your artwork or handcraft featured on this site? Please contact me!
Back to Galleries
Related articles
---