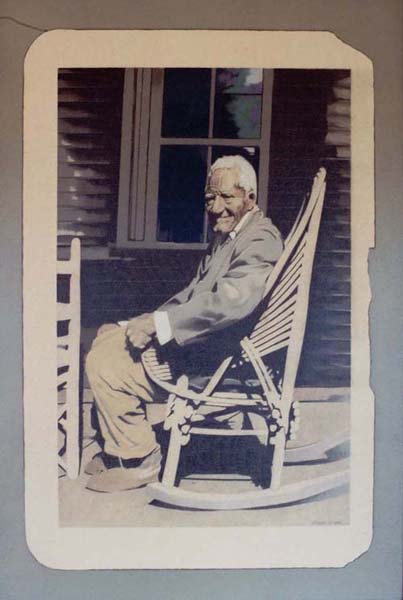 Original Drawings on Canvas
Michael Graham is a graduate of Memphis College of Art (1974 Merit Scholarship Award, BFA 1976), and worked as a professional artist and designer in Memphis until 1992. He is now teaching drawing and printmaking at Louisiana State University in Shreveport. He was awarded a one-man show at the Louisiana State Exhibit Museum (2005) and the state museums in Natchitoches and Baton Rouge (2008-2009). Michael was raised in the rural, agrarian South and feels a powerful bond to his native countryside. This life and the people who serpentine their way through it, have been the driving force in his imagery. Michael Graham is a storyteller in two dimensions.
"There is something compelling and memorable about a sepia tone photograph that is 80 years old.   This is especially so if you are Southern.  We now live in a digital snapshot world where many images are merely 'viewed' and quickly dismissed.  This is not the case with vintage photographs.  People take their time, musing, remembering and generating short stories, recalling sometimes, their own history.  My drawings bring these experiences to the viewer on a much greater scale, with a different artistic medium as an aesthetic vehicle. The drawings are monochromatic in nature with subtle hints of color introduced as artistic license. They are time consuming, layer after layer of medium applied to gain the desired depth and value, then finished with multiple polymer varnishes. Just as a short story emerges with every page turned, the composition develops slowly, falling into space and dimension."
Written by Michael Graham, Owner & Artist at Studio of Visual Arts and New South Books.  You may also and view and read about his handmade leather journals in our Gallery.
Contact & Purchase Information
You may contact Michael via the Studio of Visual Arts web site to view and purchase original drawings.  Visit his New South Books Etsy Shop for handmade leather journals.  You can also find the Studio of Visual Arts on Facebook.
---
Copyright 2012 Michael Graham; text and images used by permission.
Related articles