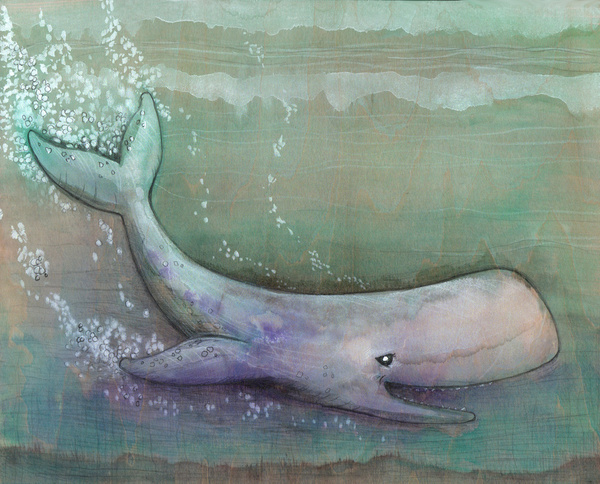 Tasha's work makes me long for walks on the sand by the ocean…and makes me wish I knew how to surf!  Are you ever too old too learn? She and her husband currently reside in Delray Beach, Florida.
Inspired By The Sea
About the artist in her own words…Tasha Chapman is an artist, surfer and maker of things. Her art (seen on Jewelwing.com) is inspired by a love for the ocean and a fascination with nature. Using watercolor, ink and pencil she creates images that draw on the shapes and textures of the natural world, the creatures who inhabit it, and all things aquatic. Her goal is to take some of the beautify she sees during her time spent in the ever-changing ocean and translate it back into a something that can be enjoyed all the time.
Tasha also creates handmade surfboard bags and beach bags. About a years ago she and her husband need some of these things and nothing offered locally fit their style, so she created Chapman at Sea, a line of utilitarian bags. In designing the bags, Tasha focused on traditional, durable materials in order to create high quality, beautiful items for anyone with a life centered around the sea.
Tasha says "it was my love of surfing that made me want to make surfboard bags and beach bags… While art is always important to me, I feel really happy making these things from canvas. The times spent surfing are definitely some of the best times in a person's life and by making gear for surfers it's like I get to be a small part of that."
Connect With Tasha
Art: Jewelwing.com
Bags: chapmanatsea.com
Etsy Shop: www.etsy.com/shop/theAtlanticOcean
Pinterest: pinterest.com/chapmanatsea
FB: www.facebook.com/jewelwingART
For ideas on how to use Tasha's art and canvas bags in home decorating, please hop on over to my article: Beach-Themed Ideas For Decorating Your Child's Room, Etsy-Style!
---
Text & Images Copyright Tasha Chapman, Used by Permission.