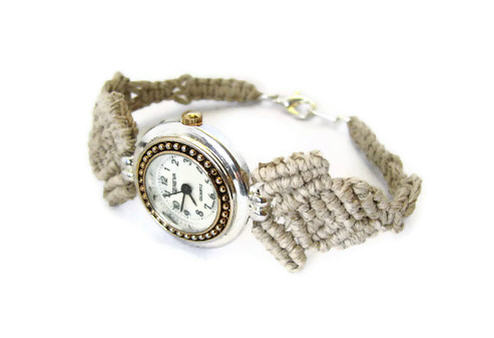 Rita was born in Russia and started making traditional Russian macramé with her family when she was 5 years old.  She continued through college and late twenties.  Rita then met an American man who moved her to the United States and became her husband.  They now reside in Seattle, Washington.  Be sure to visit her web site to see more of her gorgeous jewelry.
About The Artist
Once I became a mom I needed a way to make money at home, so I took the dive and started making jewelry. My husband tricked me and bought me tools as a gift; one thing lead to another and I made the move from macramé to metals.
My main goal is to combine stones and shapes that are beautiful, simple, and have meaning and magic to their prospective owner. Most of all I wanted it all to be affordable; I think all women should feel special and pretty.  My biggest influence has been being free here in the USA and seeing how much each person likes what I create.
Classes & Upcoming Events
I have taught macramé and have written tutorials on both macramé and jewelry design for people at home.   After teaching my daughter and seeing the light and spark take off, I now aim to give free classes at the local schools.  I have just attended many of the music awards shows with my jewelry, and it will also be displayed at the GBK's Oscar Gift Lounge.  The attendant celebrity will receive necklaces from my Tango To Three collection.  My next goal is a larger audience and to be on talk shows and TV.
Connect With Rita
Visit RitaSunderland.com to find out more and purchase Rita's fine jewelry.  You can also keep up with her latest shows and offerings on her blog.  Find Rita on Facebook, Google+, Twitter and YouTube.  Rita is a member of The Artisan Group.
Written by Rita Sunderland and Edited by Kathryn Depew. Text and Images Copyright 2012 Rita Sunderland, used by permission.
---