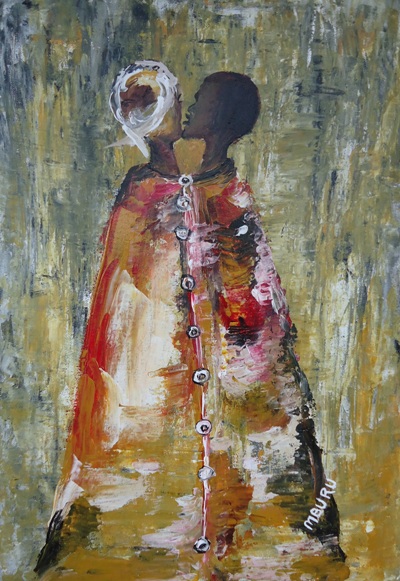 I am thrilled to introduce to you an artist from Kenya who is active in the arts and in charitable organizations.  Read about Peter in his own words…
Peter Nyanjui Mburu, A Kenyan Artist
My name is Peter Nyanjui Mburu, a Kenyan artist in most media. I started my artistic works in 1996 by creating small objects artistic wise with Porcupine quills to make Necklaces. The same year I was carving and participated in a group exhibition at Gallery Watatu 1997 group exhibition at the National Museum of Kenya.  In 2010 in the National Museum of Kenya History Gallery,  I installed a commissioned life size Train Engine sculpture.  The sculpture relates to the Man Eaters of Tsavo and the historical railway construction in Uganda Kenya Railway line.
Art Projects & Charitable Work
I am the treasurer and founder member of an art group called YA-AFRICA, ART GROUP that operates at the famous MAMBA VILLAGE in Langata road. I am the Chairman and a founding member of local community-based project called LEARN UR ART TALENT AT AN EARLY AGE. We operate in a local Presbyterian Church in Kabuku, Ngecha, in west Kiambu county Central Provence. From 2003  to 2006 I  operated a project called HEALING THROUGH ART funded by the Ramoma art gallery. We operated at KENYATTA NATIONAL HOSPITAL dealing with children living with cancer. In 2005 I operated a project called creating new memories for children living with AIDS, and was funded by SANFROTIERES MEDICIN Kenya.
Exhibitions & Fairs
1998-2000 – Group Exhibition, Art Fair Village Market
2000-2001 – Group Exhibition, National Museum, Mamba Village and Hongs Bakery & Restaurant
2001- 2002 – Group Exhibition, various Galleries South Africa
2002 – Solo Exhibition, Hongs Bakery & Restaurant
2004 – Group Exhibition, Village Market, National Museum of Kenya, & Mamba village
2005-2007 – Organized a very successful exhibition Kenyan Touring Exhibition in UK
2008- 2011 – Organized various Group Exhibitions at Village Market Kenya
2012 – Solo Exhibition, National Museum of Kenya Nairobi Museum
Contact
To get in touch with Peter, you can email him at salim_pmburu@yahoo.com.
---
Text and Images Copyright 2012 Peter Nyanjui Mburu. Edited by Kathryn Depew. Used by Permission.