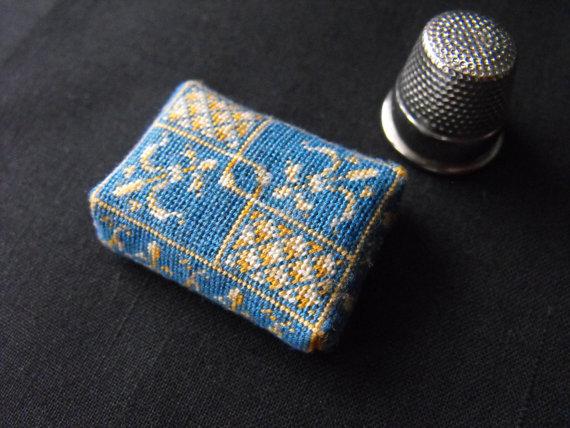 Nicola Mascall has been designing and stitching 12th scale miniatures for collector's dolls houses for the past 20 years.  She currently lives in Frome, England.
About The Artist
Having trained in art and design but always having a passion for needlework, this fascinating hobby didn't take long to turn into a full time obsession!  I stitch anything from carpets to cushions, in silk or fine cotton. I work on a fine mesh fabric, known as silk gauze, which comes in several degrees of fineness.  The finer the fabric, the more detail can be incorporated into the design.

I like my designs to reflect certain periods of history, and I particularly like the extravagant designs and colours of the Victorian era.  I take my inspiration from books, museums, historic houses, films and TV.

Each year I display and sell my work at Doll's House and Miniature fairs in the U.K. I also love to undertake commissions as this gives me the chance to make something fresh and unique. For example, I have just made my first carpet for a 24th scale Tudor doll's house.
Connect & Purchase
Nicola has a website where many of her designs are available to buy in kit form, so you can try miniature needlework for yourself!  These kits have proved to be very popular.  Visit her Miniature Needlework Facebook page, too!
Nicola opened her Etsy shop last April and likes to include unique items which are not available on her website.  Stop by to see what she has available today!
---
Text and Images Copyright 2013 Nicola Mascall, used by permission.