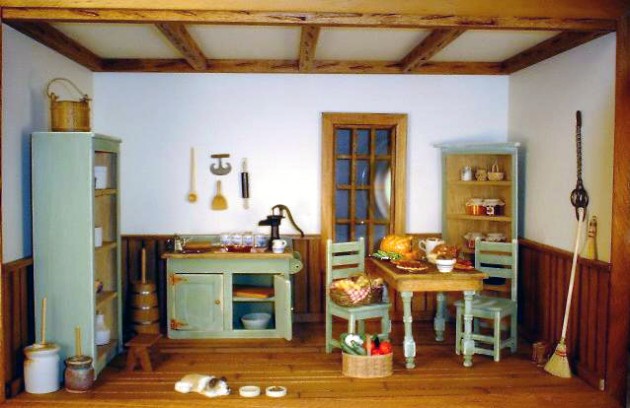 Vintage Kitchen…
…complete with dust!  It's amazing how much more noticeable dust is in pictures.  The room box and kitchen furniture set was made by Taylor Jade Miniatures, and were the inspiration for this setting.  When I saw these items at the Taylor Jade Miniatures booth at a CIMTA show several years ago, I thought they would be a great backdrop for my collection of miniature pottery, baskets and kitchen accessories.
Credits
I would like to give credit to all of the artists and handcrafters represented, but I am relying on my memory and research.  Where the artist or company represented does not have a web site, I refer to my web site Cotton Ridge Miniatures & Collectibles if I carry the item.  If you see a piece that you recognize that is missing information, please let me know!
Current Scene

Silvia Bolchi: Basket of dishes on top left shelf, basket on bottom left shelf, honey jar and blue jar with cork on right shelf, mug on table.
Butt Hinge Pottery: "2" Jar with lid & handle on floor, Red Wing jar with lid on right shelf.
Al Chandronnait:  Large basket in planter under window, small hanging basket on right wall.
Kathryn Depew: Fabric basket on floor
Jessie Griess: Potholder on sink (ca 1999)
Sir Thomas Thumb: Bread board on right wall, bread board, rolling pin and food chopper on sink, can with handle on floor next to sink.
T&E Brownawell (now M&C Creations): Baking, Loaf Pans
Vernon Pottery:  "Huntsville" crock, plates on right and left walls.
Previous Scene
Several years ago I photographed the kitchen showcasing several of the miniature accessories sold in my online miniature shop, Cotton Ridge Miniatures & Collectibles.
Bauder-Pine, Ltd.: Half-inch scale jug, jar, basket on right corner shelf, small bowl on table, small pitcher on sink.
Silvia Bolchi:  Jam jars on right shelf.
Al Chandronnait:  Wooden step stool, large produce basket (not the veggies).
Cottage Industries: Straw brooms on right walls.
Falcon Miniatures: Turkey on platter
J. Getzan: Rolling pin on back wall, copper pot in sink.
Sir Thomas Thumb: Bread board, wooden rolling pin, butter paddle, food chopper, wooden spoon on and above sink, butter churn next to sink, wooden bucket on top left shelf.
Karen's Minis/Skycrest Miniatures: Canisters on sink.
Copyright 2011 Kathryn Depew
Would you like your artwork, handcraft or collection featured on this site? Please contact me!
---