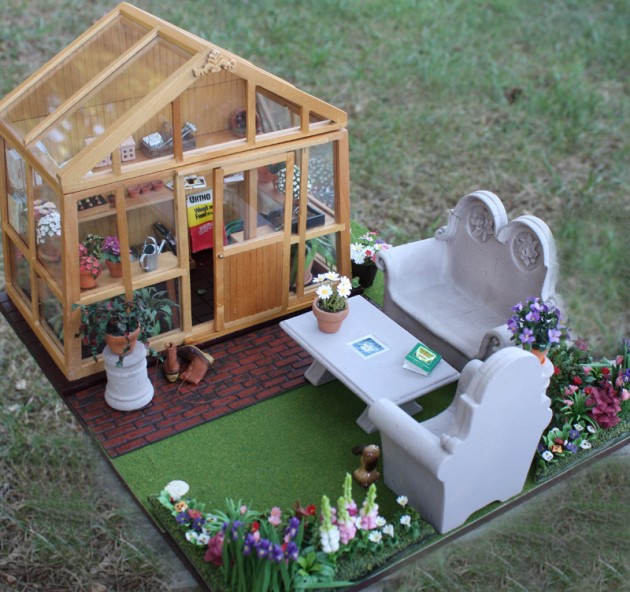 Miniature Greenhouse & Garden Scene by Kathryn Depew
I enjoyed putting this scene together with miniatures collected over the last several years.  After looking at the pictures, I realized how clean everything is!  One of these days I will age and distress the greenhouse exterior and interior so that it looks a little more realistic.  Until then, I'll just imagine that a very neat and clean miniature gardener lives here!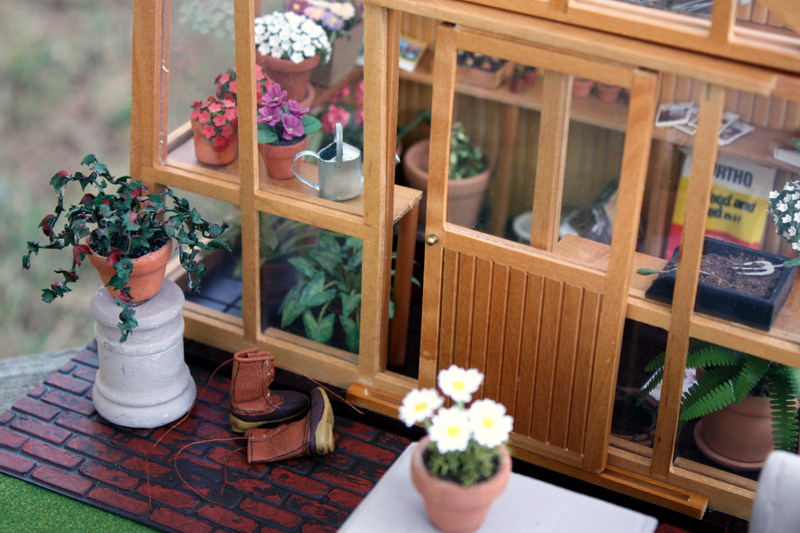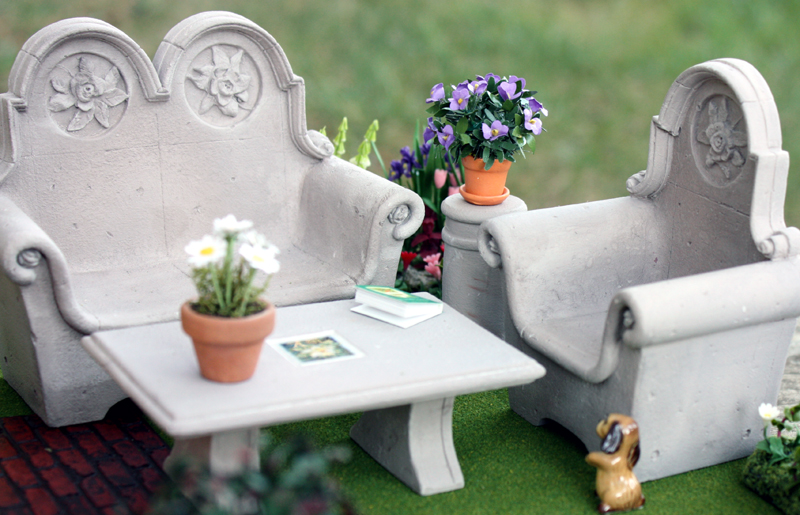 Tutorials
Instructions are available on this site for the following:
Miniature Daisies in Pot Tutorial
Miniature Potting Tray (Incuded in the Miniature Garden Potting Bench & Accessories Tutorial)
Miniature Garden Accessories in Basket Tutorial (Plant Markers, Plant Stakes, Garden Staples and Seed Packets)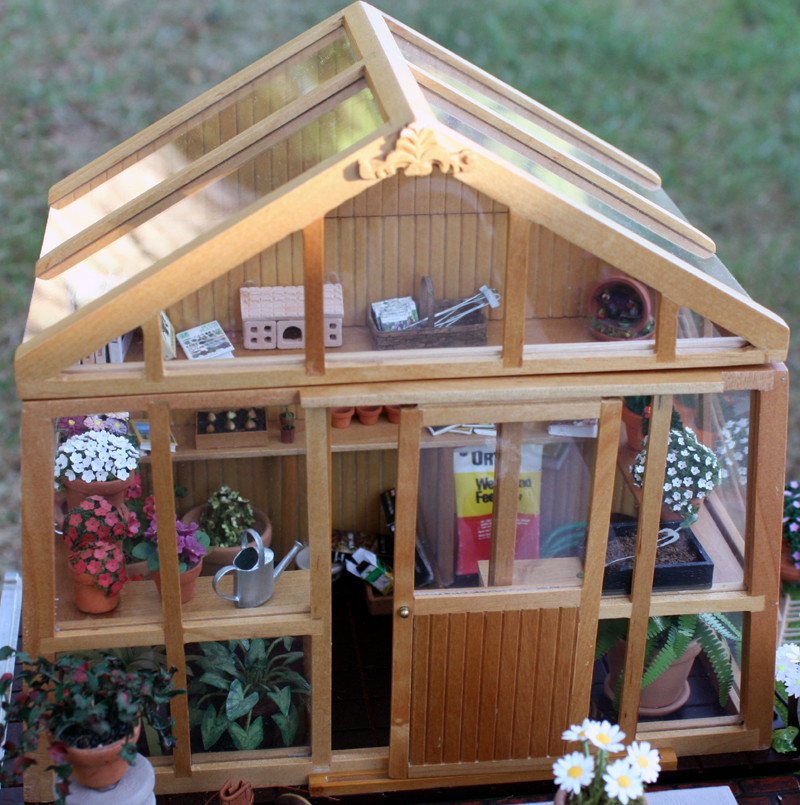 Artist Credits
I would like to give credit to all of the artists and makers represented; if you see a piece that you recognize that is missing information, please let me know! (If the maker does not have a web site, I refer to my online shop if I am able to re-order the item.)
Al Chandronnait: Basket on Greenhouse Top Shelf
Falcon Miniatures: Corner gardens
Kathryn Depew: Daisies in Pot and Bucket, Impatiens in Pots, Potting Tray, Hand Trowel and Hand Fork (from a Bonnie Lavish kit), Fern in Pot (from a Jeannetta Kendall Kit), Geranium in Pot, Gardening Accessories in Al Chandronnait Basket
LABH Designs: Gardening Books
NAME Birmingham Regional Convention: Seats, Table and Pedestals
Reutter Porcelain: Greenhouse
Robin Betterley: Boots
Silvia Bolchi: Small Silver Watering Can, Clay Birdhouse in Greenhouse
The little porcelain dog is from my Mom's collection.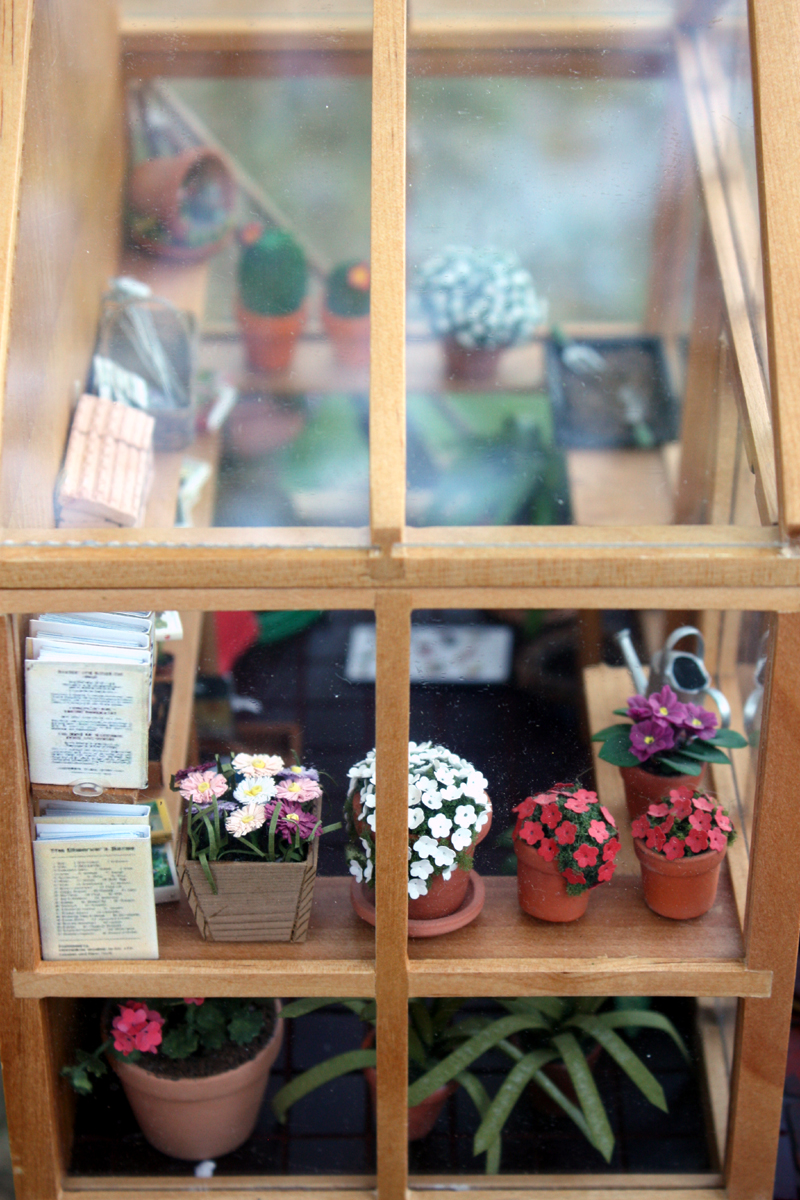 ---
Copyright 2012 Kathryn Depew
Would you like your artwork or handcraft featured on this site? Please contact me!
Related articles