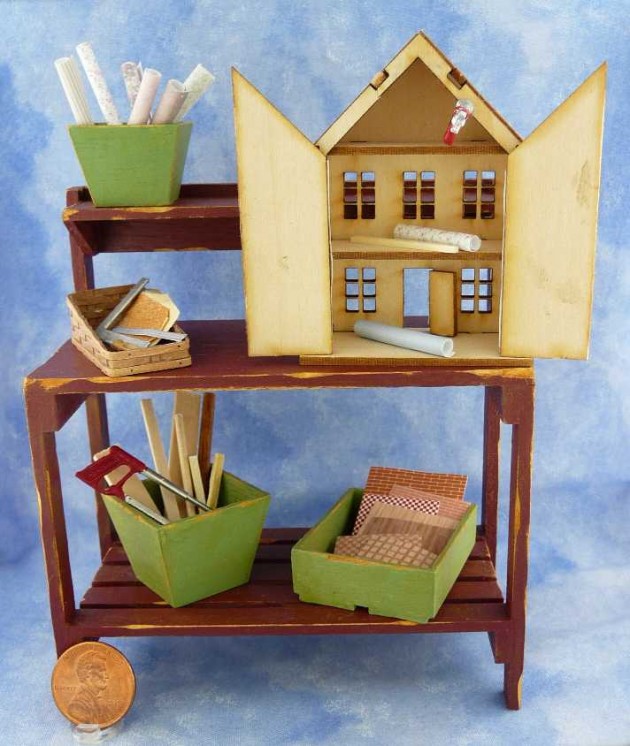 Miniatures Needed
One inch scale miniature Potting Bench by Falcon Miniatures
Dragonfly International Miniatures Dollhouse for a Dollhouse Kit
Al Chandronnait one inch scale miniature Rectangular Produce Basket
2 One inch scale miniature Unfinished Square Wooden Planter Boxes by Falcon Miniatures
1 One inch scale miniature Unfinished Wooden Crate
4 One inch scale miniature Metal Tools including a Metal Clamp
Small Pieces of Scrap Wood (you can use toothpicks, too)
Small Square of Sandpaper
1/144" Scale Wallpaper & Flooring (free images from internet)
Tools & Supplies Needed
Tweezers
Paint Brushes
Small Scissors
X-acto Knife
Wax Paper (to protect work surface)
Tacky Glue & Zap-A-Gap
Paper Towels
Crackle Medium
(optional)
Small Jig
American Accents Rust-Oleum Distressed Vintage Red Kit (includes Antique Top Coat) or acrylic paint and wood stain
Matte Spray Sealer
Trim Cutter
Sandpaper
Toothpicks
Small Rag
Emory Board
---
PROJECT INSTRUCTIONS
1. One Inch Scale Miniature Workbench and Storage Bins
You will need:
One inch scale miniature Potting Bench by Falcon Miniatures
One inch scale miniature Wooden Planter Boxes & Wooden Crate
X-acto Knife
Emery Board
Paint brushes
Small Rag
Sandpaper
Crackle Medium (optional – I did not use it on the items in the photo)
Matte Spray Sealer
American Accents Rust-Oleum Distressed Vintage Red Kit (includes Antique Top Coat) or acrylic paint and wood stain
1. Lightly sand the bench, bins and crate.
2. Paint the bench with American Accents Vintage Red Paint or with your choice of color – one good coat should be enough, unless you plan to use the Crackling Medium. Follow the directions on the bottle if you would like to try this. Set aside to dry. (You can also stain your bench with water-base wood stain. If you are using stain, make sure you stir it before you start.)
3. Stain or paint the storage bins and crate.
4. Distress the potting bench, bins and crate using your Xacto knife, emery board, and sandpaper. Concentrate on the surfaces that would normally see the most wear: edges and corners. You can also use the Xacto knife to nick the top surfaces of the shelf, table and slats. See the picture for ideas. Continue until you are pleased with the results – you can make them look as worn as you like!
5. Using the small rag, wipe the bench and bins with a coat of the Wood Stain or Antique Top Coat (make sure you stir it first). Work in small areas at a time, and wipe off quickly. Set aside to dry.
6. Spray with Matte Sealer. Set aside to dry.
2. Dragonfly Dollhouse for a Dollhouse Kit
You will need:
Dragonfly International Miniatures Dollhouse for a Dollhouse Kit
Small Jig
Tacky Glue
Xacto Knife
Cut the kit out with an Xacto knife. Assemble the kit according to Bonnie's instructions; you may leave it as unassembled as you like to make it look like the building is still in progress. I found that it is helpful to use a small jig. This is a laser-cut kit and the pieces fit together perfectly. Cut out the windows and glue in place, or leave them on the workbench.
---
In Miniature Style II: Over 40 How-To Projects
Making Miniature Food and Market Stalls
A Beginners' Guide to the Dolls' House Hobby: Revised and Expanded Edition
---
3. Miniature Accessories
You will need:
1/144" Scale Wallpaper & Flooring (free images from internet)
Tacky Glue & Zap-A-Gap Glue
One inch scale miniature Al Chandronnait Rectangular Produce Basket
Small Square of Sandpaper
4 One inch scale miniature Metal Tools including a clamp
Small Pieces of Scrap Wood (you can use toothpicks, too)
X-acto Knife or Trim Cutter
1. Insert the wallpaper and flooring images into a Word Document and resize into small squares to resemble 1/144″ scale wallpaper and flooring.  (I just eyeballed this.)  Print on color printer on the best paper you have and cut out.  Roll up the wallpaper; use a bit of tacky glue on the edge to adhere. Glue the wallpaper rolls and flooring squares in the small storage bin and crate. Save a few pieces to glue in the house and/or on the workbench.
2. Crumple up the small square of sandpaper to make it look used. Fold it in half and glue it in the basket with two of the metal tools.
3. Cut the small pieces of scrap wood into different lengths using an Xacto knife or other type of trim cutter. You may stain or paint a few of the pieces if you like. Glue a few pieces on your workbench and glue the remaining pieces in the large storage bin with the miniature hacksaw.
4. If you wish, glue the one inch scale miniature clamp to the dollhouse using Zap-A-Gap glue as shown in the picture.
Finishing Your Project
Glue your finished accessories to your potting bench as desired. You can refer to the photos for ideas. You are finished!  I hope you enjoyed the project and learned some new skills.  If you have any suggestions, corrections or comments, please let me know!
---
Copyright 2011 Kathryn Depew
Have you tried this project? Please comment below and leave your ideas and suggestions! Would you like to share your creation? Please contact me!
Related articles