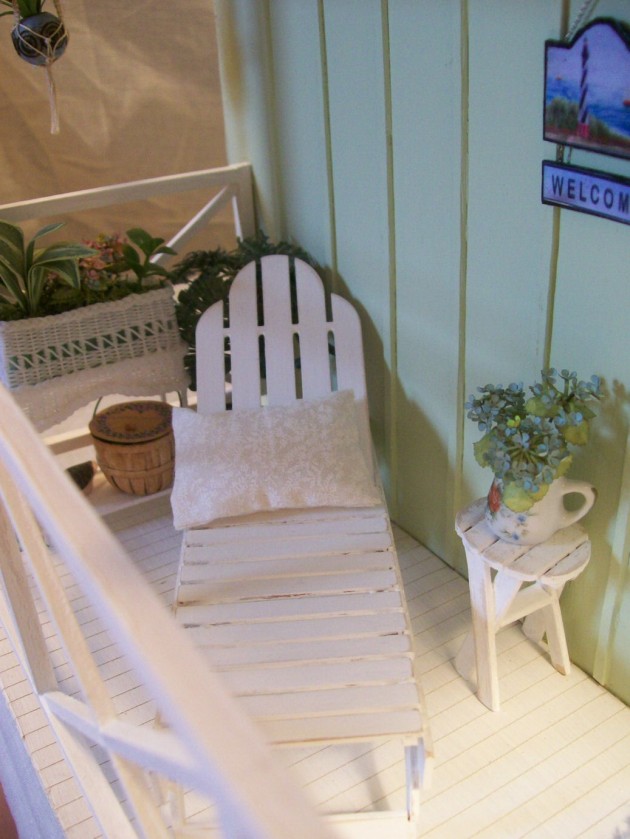 Butterfly Dreams
Michelle Canada creates wonderful dollhouse miniatures in one-inch and half-inch scales and has shared them on her web site, Butterfly Dreams.  Visit and you will find pages of images featuring dollhouses, room boxes,  and miniature accessories  – it was difficult to choose what to include on this site!   Detailed descriptions of the miniatures in the photo gallery above can also be found on her web site.
About Michelle in Her Own Words
While cleaning out the attic one beautiful day in April of 2001, I stumbled across an old dollhouse covered in dust and cobwebs. It desperately needed some fixing up.  While researching the internet for ideas, I came across many wonderful Mini-groups and met a lot of friendly miniaturists. Playing around in Paintshop Pro making graphics is another one of my hobbies. I decided to combine both of my passions to create my own mini-home on the web.
"I will sing praise to my God as long as I live."  – Psalm 146:1-2
God has blessed my life in ways I'd never imagined. I have been married to my wonderful husband, Josh, for 16 years. We have two beautiful sons – Jonathan (age 13) and Jared (age 12). In March 2004, our youngest son, Jared, was diagnosed with Autism and our lives were forever changed because of it. Now, we have the opportunity to see miracles happen every day.
After God and my family, dollhouse miniatures is what I love most. It allows me to use all my favorite hobbies – cross-stitch, woodworking, painting, sewing, photography – and lets me take baby steps into other craft areas, like polymer clay.
Free Tutorials & Printables
Michelle's tutorials have been published in several issues of American Miniaturist, and she has shared many more tutorials on her web site.   They include detailed instructions and great images.  Many miniature printables have been created by Michelle, also.  Both the tutorials and printables are free for personal use!
These are  just a sampling of the many tutorials on Butterfly Dreams web site:
Miniature Open Squares Aghan Pattern
Simple Miniature Wire Plate Rack
Miniature Metal Craft Knife
A few of the printables available on the Butterfly Dreams web site:
Miniatures Hat Boxes
Miniature Gift Boxes
Miniature Indoor Folding Screens
Miniature Games
Contact
You may reach Michelle via email: mjcanada_1021@yahoo.com or her web site: Butterfly Dreams.
---
Copyright 2012 Kathryn Depew. Photos by Michelle Canada, used by permission.
Would you like your artwork or handcraft featured on this site? Please contact me!
Related articles