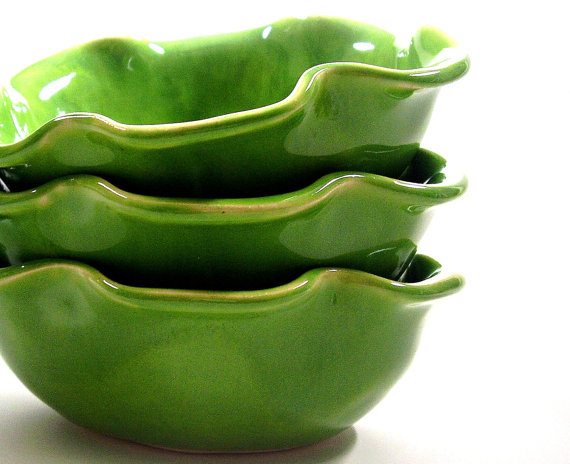 "Handmade Pottery Inspired by Nature"
Melinda Marie Alexander grew up in Massachusetts and now lives in Florida near the State Forest.   She grew up enjoying the outdoors and appreciating nature, and it has always inspired her art.  Melinda has been working with clay since 1990, and you can see nature's influence in her designs.  I love her glazes and choice of colors: the indigo blue, spring green and deep red are just beautiful.
For twenty years my functional and non-functional pottery has evolved from simple clean lines inspired by Lucy Rei to textural forms with energy and movement, inspired by nature and living things. Each handmade piece is made one at a time by me and therefore unique and one of a kind.
I found Raven Hill Pottery on Etsy when creating a Treasury, "Turning Over A New Leaf."  Melinda's lovely designs and obvious skills are inspiring to me as a fellow potter!   She is also an avid photographer – visit the Etsy shop to view and purchase her amazing images of an artist's studio, nature, and bunnies in teacups!  You can keep up with the latest work via the Raven Hill Pottery blog, and the new novel via her writing blog (be sure to take a look – the photography is amazing!)
Connect With Melinda and Raven Hill Pottery
Etsy Shop  ~ Raven Hill Pottery Blog ~ Writing Blog
Pottery on Facebook ~ Photography on Facebook ~ Twitter ~ Pinterest
---
Copyright 2013 Kathryn Depew. Images Copyright 2013 Melinda Marie Alexander, used by permission.