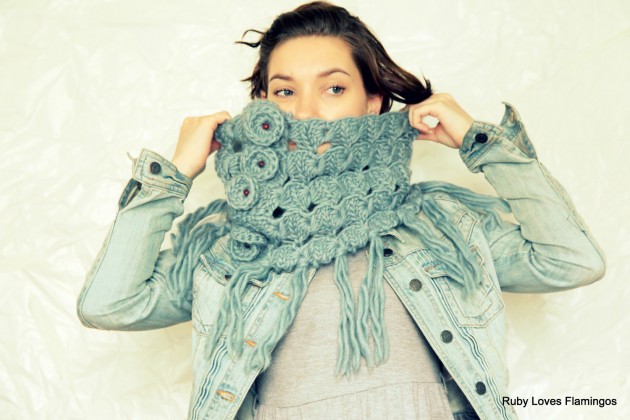 Maya lives in Nottingham, England, and has a long history with art and design. She was involved with theatre and costume design as well as teaching drawing and portraiture.  Maya studied to become a secondary school teacher before deciding on a different path.  Be sure to visit her Etsy shop to view her beautiful crocheted and knitted creations!
Fiber Artist
It was soon after leaving teacher training that I took up knitting again and taught myself to crochet. My mum taught me to knit when I was a child but I'd not really picked up a pair of needles since my late teens. This time though it felt different. I began to really appreciate the craft of it all and I haven't really stopped knitting or crocheting since. Taking a ball of yarn and turning it into something wearable never fails to please me!
I have always been irredeemably creative and often dreamed of being my own boss, making money from my creativity. Then a friend told me about Etsy and that's where I am now. I've also opened a shop on a British site called Folksy and have plans to have shops on other online markets and maybe a site of my own one day.
I can be inspired by many things; that must be the artist in me but not everything finds it's way into my knitting or crochet. What I love about knitting and crochet is that I can combine colour, texture and pattern. Recently, I became determined I would master the art of Fair Isle Knitting, or stranded colour knitting as it's sometimes referred to. It can be incredibly tricky to get just right and has been known to make grown women (and men, let's be fair) weep which is why I've always given up on it. Now I am so, so close to getting it perfect, which makes me very happy because not only does it give me a real sense of achievement it also means I can begin to introduce this work into my shop.
Connect With Maya
Follow Maya on her Ruby Loves Flamingos Facebook Page to receive exclusive updates and special offers.  You can also find Maya on Etsy and Folksy.
---
Text and Images Copyright 2012 Maya/Ruby Loves Flamingos. Used by Permission.