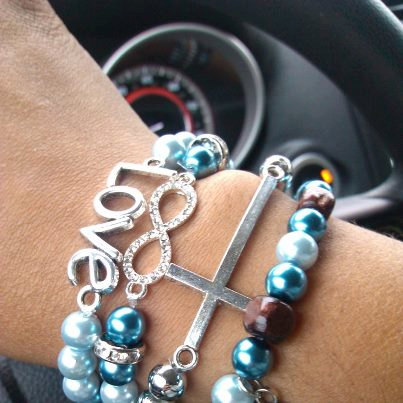 Kianna of KiKi-Jabri Jewelry Design is a talented jewelry artist living in Macon, Georgia who happens to be 13 years old.  Be sure to visit her Etsy Shop to view more of her original designs!  Her understandably proud mother, Keisha Lowe, writes about her creative daughter below.
Kianna is a rising star among her peers. She is a 13-year old jewelry designer, and owner of KiKi-Jabri Jewels. She started making jewelry out of necessity. She has always been an artist, but often struggled with one medium that she could use to express her creativity. She found herself missing her older brother who had gone off to college and was experiencing sibling rivalry with her little brother. She needed something to do, so her journey began. Creating beautiful pieces of wearable art became her creative outlet.

After opening her KiKi-Jabri Jewels Etsy Shop in June of 2012, she was approached in July by a boutique owner in the town she resides. That shop, Head Over Heels Boutique in Macon, Georgia, became the first retailer of her signature bracelet line. Since then, her line has taken off and is carried by other retailers. Her online store is thriving and her presence in social media is growing by leaps and bounds. She is growing a business that could possibly evolve into a life-long career. In the event that her plans change, she states that she is learning skills that can carry her a lifetime. She continually is amazed at the impact that she has on others, especially other kids. She has been invited to speak to youth groups and at elementary schools. Through all this, she remains unchanged and humble.

Kianna, affectionately known as KiKi-Jabri, takes pride in every piece she crafts. Motivating her work is the drive to inspire other teenagers to pursue a dream and the joy that her jewelry brings to others.
Connect With Kianna
Find Kiki-Jabri Jewels on Facebook and on Instagram.  Visit her Etsy Shop to view and purchase  her handcrafted jewelry.
---
Copyright 2012 Kathryn Depew.  Quote and Images from Keisha Lowe and KiKi-Jabri Jewelry Design, used by permission.