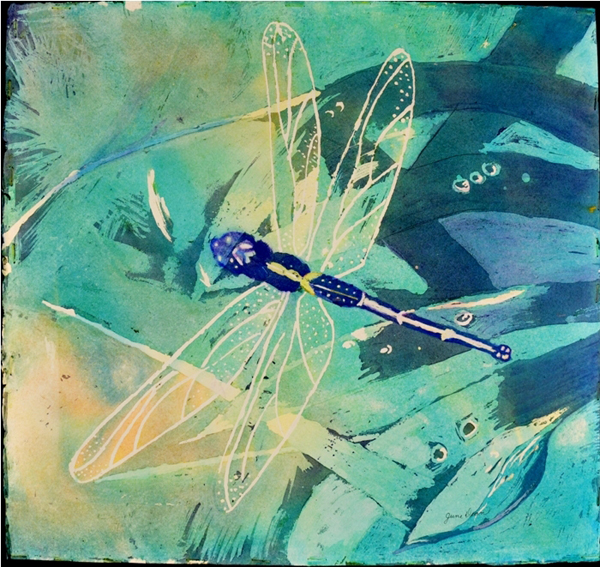 Artistic Heritage
June Dean was born into a family of several generations of accomplished artists.  It was a fertile ground in which to grow up and to develop her own voice.  Living all over the world has also given her artwork unique expression.  How did this Oregon gal end up in Camp Hill, Alabama?  She married a Alabama guy. They love their dirt.
June's varied works have won Blue ribbons and Best in Show with work in Genesis, Oil, Acrylic and Watercolors.  Recently June returned to clay, a creative calling from her past.  Her newest clay creations are Plant Buddies.  These are lovely worms full of personality that keep your lonely plant company.
Arts Community
June is gallery-represented, a published artist and writer.  She is an active charter member of Bama Brushstrokes, an art club based in Montgomery, Alabama.  She also is active with The Society of Decorative Painters and Auburn Arts Association.  June, with other artistic friends, started Open Studio, a weekly gathering of artists at the Jan Dempsey Community Arts Center in the Auburn area.  She is also an active member of Christian Artists (a new group in the Auburn, Tuskegee, and Camp Hill area) and Ascribing Artists, two groups who desire to uplift God with their artistic voice.
Arts Instructor
June has met many artists who have influenced her work.  Three instructors in particular were instrumental in forming her desire as a teacher to bring out the best of any artist regardless of their skill level.  Mrs. Nitty and her husband Basil worked as a team in teaching art.  They each had a lovely calm and encouraging word while working with students. Any time June teaches she has Mrs. Nitty and husband Basil on each shoulder.   Kumi Pickford, a wonderful Japanese artist who teaches portrait work in sepia tones. Kumi's encouragement gave June faith in herself to try faces again.
Contact & Purchase
Visit June Dean's Art Blog for more information on June and her work.  Her Bonanza Art Booth contains many prints and original paintings by June and other artists – it's worth a visit!  She is also available via email Junebugart50@gmail.com, Facebook and phone 618-975-6391.
---
Written by June Dean and edited by Kathryn Depew.  Photos by June Dean, used by permission.

Copyright 2012 June Dean
Would you like your artwork or handcraft featured on this site? Please contact me!
Related articles