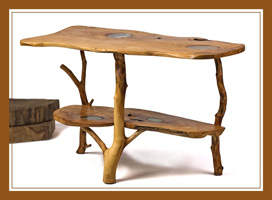 Functional Art Inspired by Nature
Joe Kovacs of Branching Out Artistree has been working with wood for 19 years.  Recently he started creating beautiful, one-of-a-kind furniture pieces from fallen hardwood trees and branches.  He has designed and built functional art in the form of tables, shelves, entertainment units, game tables and more.  He welcomes visitors to his studio and also takes custom orders.
Please click on the thumbnails above for larger views and more images.
"A creation of beauty is a joy forever."
"I love the outdoors, and on my many walks I was inspired to find a way to recycle the many fallen branches that littered the ground.  When I used some of the branches as table legs, I noticed the table was very sturdy, naturally balanced and aesthetically pleasing. They seemed to take on their own personality."
"The surfaces of my furnishings are hardwood slabs up to 2 inches thick consisting of oak, beech, walnut, cherry, ash and other local hardwoods that are slowly dried to prevent cracking. They are finely sanded to reveal the natural grains and colors of each piece. Sealer is then applied before the final finishes which are shellac or oil."
Designers, Decorators & Distributors
If you are a designer, decorator or distributor, Joe will work with you in designing pieces for your clients or shop.  Branching Out Artistree has inventory available for resale.  You may also download his five-page full color PDF brochure for your clients.
---
The New Traditional Woodworker: From Tool Set to Skill Set to Mind Set (Popular Woodworking)
---
Ordering & Purchasing Information
Web Site: Branching Out Artistree
Email: joe@branchingoutartistree.com
Phone: 519-851-8733 (TREE) (Canada)
Studio Location & Hours
Branching Out Artistree Studio
4509 Colonel Talbot Rd.
Lambeth, London
Ontario, Canada
N6P 1P7
Please call for studio hours.
Galleries
Eclipse Art & Design Gallery in Deerhurst Inn, Huntsville, Canada
Little Falls Artisans in St. Marys, Ontario
Mostly Muskoka Gallery, 40 Manitoba St., Bracebridge, Ontario
Algonquin Outfitters, Oxtongue Lake Shore, Dwight, Ontario
You Rock Studio, 230 Main St., Bloomfield, Ontario
---
Copyright 2012 Kathryn Depew. Photos from Joe Kovacs, used by permission.
Would you like your artwork or handcraft featured on this site? Please contact me!
Related articles
---
Back to Galleries