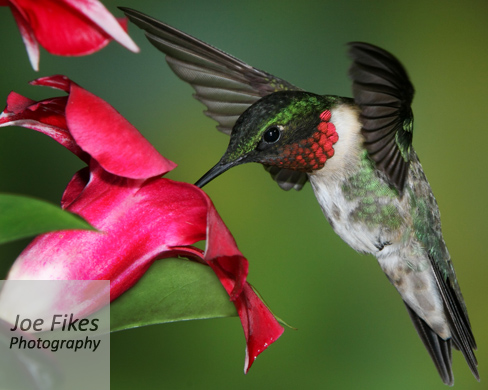 Nature & Landscape Photographer
Joe Fikes resides in Huntsville, Alabama with his wife Judi, having retired from a career as a physicist specializing in lasers and electro-optics. He has enjoyed photography in a serious way ever since he was a teenager. But he only began exhibiting his work in 2007. His photographic interests vary widely, but he primarily works with landscapes – everything from grand vista to intimate close-ups of wildflowers, streams and gardens. He's particularly fond of the Appalachian mountains and the American West.
Joe has spent over 40 years honing his technical and artistic skills, first with 35 mm film, then large-format cameras, and now with digital SLR Canon cameras. His work is characterized by classical composition, critical sharpness, rich tonality and vibrant color.
Top Quality, Archival Prints
You may purchase top-quality prints from any of the images you see on this site. Joe pays meticulous attention to all of the details in producing your print and he believes you'll agree that the sharpness and depth of tonality and color will be as good or better than any you've seen. Available sizes vary, depending on the particular image. Factors that determine the availability of a specific size include the format and resolution of the original image, cropping, and other esthetic considerations. If an image won't meet his standards of sharpness and color accuracy at a particular size, he'll let you know. Joe uses archival methods and materials throughout the process, insuring that your print will give a lifetime of fade-free, color-shift-free enjoyment. Your print will arrive ready to mat and frame and will be hand-signed by Joe on the white border. All images that are matted and/or framed by Joe will be signed on the mat itself.
---
Canon Digital SLR Cameras & Bundles
Photography Magazine Subscriptions
The Art of Photography: An Approach to Personal Expression
---
Photography Lessons in Huntsville, Alabama
In addition to making beautiful images himself, Joe has taught hundreds of others to make photos that they will enjoy for a lifetime. He teaches photography classes to groups or private lessons for individual students. His photography lessons feature flexible scheduling, custom tailored learning, and a practical balance between the art and technique. A digital SLR camera is required. Pricing: $50 per hour for private or small group instruction.
Introduction to Digital Photography
Typically three – four two hour sessions. You can decide what you think is right for you after you've had a chance to talk to Joe. $300 – $400, depending on what you decide.
Intermediate Digital Photography
Typically four two-hour sessions, but these lessons are tailored to your individual needs. You'll work together with Joe to design a plan that is right for you. Typically $400, based on what you decide.
Advanced Digital Photography
Once you've reached this point, you'll have developed a good feel for where you want to go, photographically. Joe will work with you to help you master the advanced skills needed to achieve your desired results.
Note from Kathie: Joe's photography classes come highly recommended by a personal friend.
Exhibitions, Purchase & Contact Information
Joe's photographs have been exhibited at art shows around north Alabama, the Huntsville Museum of Art, and may be seen in private and corporate collections in the Huntsville area. He won first prize in the photography division at the Art on the Lake show in 2009 and in 2010. To view more of his images, please visit his online gallery at his web site, Joe Fikes Photography. You may also contact him via phone: 256.883.5281 and email: joe@joefikes.com.
---
Written by Joe Fikes and Edited by Kathryn Depew. Copyright 2012 Joe Fikes.  Photos by Joe Fikes, used by permission.
Would you like your artwork or handcraft featured on this site? Please contact me!
Related articles