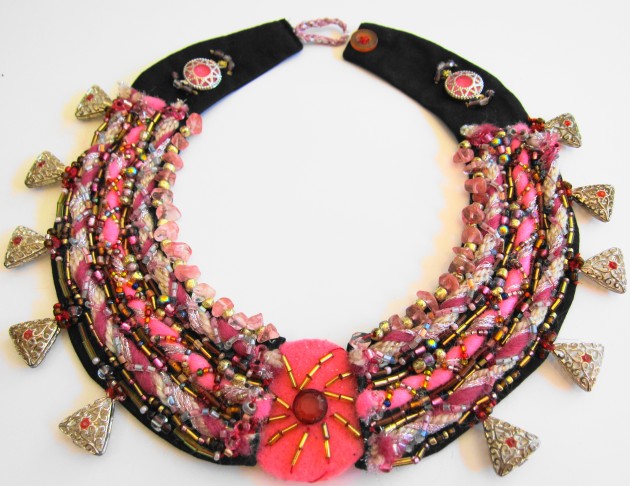 When I was first introduced to Kate Zarandia's Georgian Beauty web site, I was amazed at her distinctive bib necklace and bracelet designs.  I am thrilled to be able to present Khatuna's intricate bead and fiber work here on Cotton Ridge Create!
Fiber & Bead Artist
I was born and raised in the Republic of Georgia, an ancient country in the Caucasus Mountains. Georgia is legendary with its folklore singing and dancing, ancient churches with beautiful frescoes. The people have a unique sense of style and open hearts. My country is my identity and my inspiration. I started the Georgian Beauty jewelry line nearly two years ago. My creative process is a wonderful experience: matching the colors, picking gems, twisting the yarn. Every aspect from beginning to the end is a delightful process and I love it.
My logo is inspired by the 12th century Georgian "Khakhuli Icon" created with cloisonné enamel medallions and precious stones. It is a brilliant treasure of medieval metalwork. The logo is centered with a heart expanding into a spiral of vines and leaves with clusters of grapes. Wine and viticulture are central to Georgian culture. The fertile land of Georgia is the ancestral home of wine with hundreds of indigenous wine species thriving naturally throughout the land. The final touch in the logo is an ancient Georgian symbol, the Borjgali, the Sun, also tracing back to the Mesopotamian and Sumerian cultures suggesting eternal movement and life.
Each of my pieces are handmade and one of a kind. I use semi-precious gems, felt, feathers, silver charms, copper beads, Indian ribbons and leather. I plan to expand my jewelry line to incorporate metal and resin stone. One day I hope to have my own clothing line. Currently I take classes at the City College of San Francisco towards a fashion designing degree. Please visit my Georgian Beauty web site.  Some of the profits go to the Special Needs classrooms in San Francisco Bay Area.
Connect
Find Kate Zarandia on Facebook, and follow her via the Georgian Beauty Blog.  Her fashionable jewelry may be purchased on the Georgian Beauty web site.
---
Text and Images Copyright 2012 Khatuna Zarandia-algar. Used by Permission.