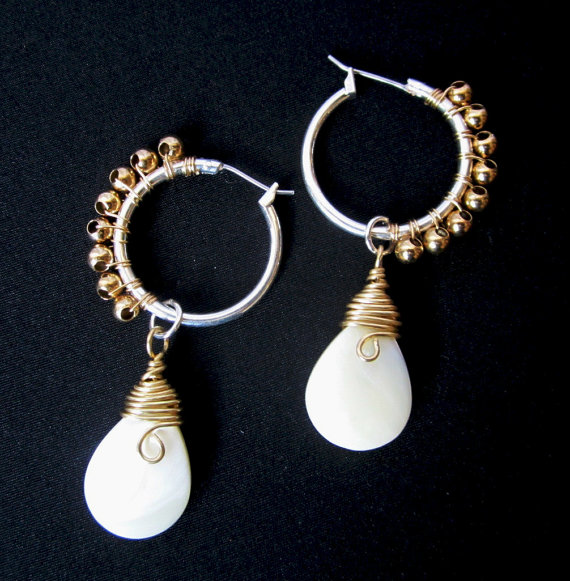 Hortensia Gibbs is a self-taught artisan from Monterrey, México.  She has always enjoy working with her hands, and her creative pursuits include cross stitch, crochet, knitting, embroidery, lampworking, and cooking.  Visit her Etsy shop or wonderful web site to view more of her lovely and unique jewelry.
About The Artist
I started making jewelry for myself about 12 years ago. At first it was for my own personal use but with time my friends started to ask me if I was interested in selling this or that necklace they had seen me wearing, and that´s how I started making jewelry as a business, just selling to friends and family.
I have a very strong attraction to natural stones, healing crystals, ancient cultures, ethnic and tribal jewelry, old coins, protection amulets, etc. and I think all these things have marked the path to my jewelry style. I'd rather buy a strand of beautiful amethyst beads than a dress or a pair of shoes.
When I travel I am always looking for special, different and interesting items I can use in my designs, be it beads, stones,  pendants, coins, findings,  and sometimes I keep them for months just stored away, until I come up with an idea to put them together in a necklace or a bracelet. It is funny but I usually get my designing ideas at night, when I am asleep, it´s like I dream of a necklace this or that way and the next day I sit down in front of my working table and make my dream come to reality. It is an exciting feeling and I love it.
I am proud to say that my granddaughter Maríajose, who is nine years old and lives in Seattle, Washington, likes to make jewelry too. I started making little bracelets for her when she was younger. One day I gave her a bunch of beads I was not using anymore and she made her father take her to a store to buy a storage box for the beads. Now she makes bracelets for her friends, cousins and aunts.
Making jewelry is my passion.  I think I will keep doing this for the rest of my life.
Connect With Hortensia
To purchase or view more of Hortensia's jewelry, please visit her Etsy shop and web site.  You can also find her on Facebook and follow on Twitter.
---