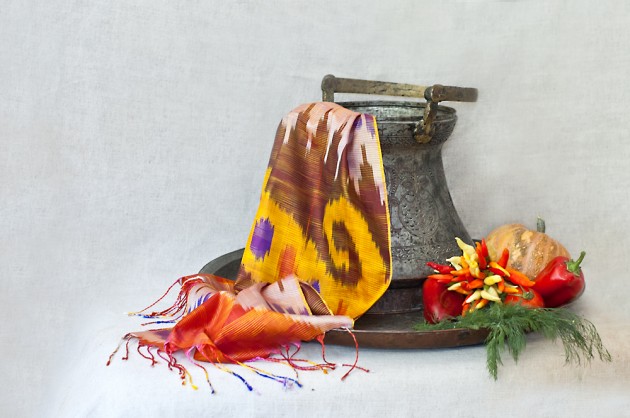 Mother & Daughter Team
Irina and Eugenie, a mother and daughter team in Uzbekistan, are the talents behind Mulberry Whisper.  They offer gorgeous handmade clothing, pillow covers and accessories made of natural silk and cotton fabrics produced in their home country.  Everything in their Etsy shop is either one-of-a-kind or very limited in quantity, and clothing is made to order for a perfect fit.
We prefer ikat fabrics handwoven in Uzbekistan because we love their uniqueness, bright colors and ancient tribal feel combined with modern designs. Clothing and housewares made of Uzbek ikat fabrics will touch your heart, whispering to you about far away countries, adventures and travels, the Silk Road, the Great Game, hot sun and sands of Central Asia and the ancient traditions and knowledge. It is not just a piece of silk you are holding – it is a precious piece of history and culture.
Learn more and keep up with these wonderful artists through their Blog.   Eugenie's writing is very engaging, and she has excellent  ideas and advice for those of us who sell on Etsy (she is willing to share)!  She is in great favor of joining an Etsy Team that has supportive members who will help each other through advice and promotion (consider joining a Treasury Team).  Irina and Eugenie use vintage fabrics in their work, so they are members of the Etsy Upcyclers Team.
Purchase & Contact
Visit their Etsy shop to view and purchase their gorgeous silk clothing, scarves and pillows.  Mulberry Whisper is also on Facebook.
---
Copyright 2012 Kathryn Depew. Images copyright Mulberry Whisper, used by permission.
Related articles