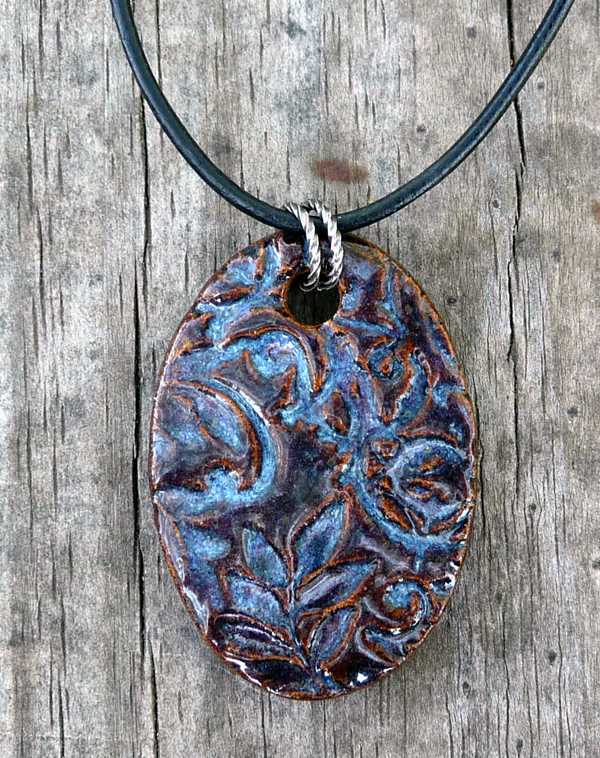 Sample pendant above uses Amaco Potter's Choice Glaze – Blue Rutile PC-20 on Laguna Speckled Buff Clay.
Introduction
These are the basic steps and materials I use to make my pendants.  After you have a little experience, you will adapt the method and materials to suit your work (and fashion) style.  The possibilities are endless!  You may see many more pictures of my pendants, buttons and earrings at this link.
Please feel free to comment below with questions, and I will get back to you as soon as possible.
Disclosure: I was not compensated for this post. I am an affiliate of Amazon
, and will receive a small commission if a link on this page is used to make a purchase.
Materials
Soft High-Fire stoneware clay (with little to no grog – I've used Laguna Porcelain 5, Speckled Buff, Red Calico and Greystone)
Small clay cutters in different shapes (available at craft stores in the polymer clay and cake decorating aisles)
Textured Objects (rubber, plaster or wooden stamps, buttons, leaves, etc.)
Rolling Pin not used for food
1/8″ – 3/16″ Thickness Strips – I bought square dowels at the craft store, but I may try hardwood strips in the future
Cornstarch (Note – this may mold in your clay bag if you have leftover clay.  If this bothers you, you can skip the cornstarch.)
Wooden ware boards (plywood square or rectangular boards)
1/8″ or smaller diameter drill bit
Kemper High Temp Wire 24 gauge (optional)
Your favorite glazes
Method
Sprinkle a wooden work area with cornstarch.  Using about 1/2 pound, roll out clay using the thickness strips as a guide.  As you work, sprinkle clay with a little cornstarch and turn clay over and roll on the other side occasionally, until you reach the desired thickness.  Try to roll it as evenly as possible.  The clay should not stick to the surface.
Using firm, steady pressure, press your textured objects into the clay.  You can use the rolling pin to roll flat objects.  Using the small cutters, cut out shapes and carefully move them to a wooden ware board. Try not to bend them or the pendant may permanently lose its flat shape.
Repeat as often as you like!
---
Jewelry Designs from Nature: Woodlands, Gardens, Sea: Art Bead Jewelry Designs Inspired by Nature
Custom Cool Jewelry
Jewelry-Making Tools & Supplies
---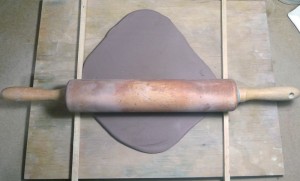 When the pendants have dried enough that you can pick them up without squishing them, gently press down on the edges on both sides to round them slightly.  Set them aside to dry to almost leather-hard.
Pendants: When the pendants are almost leather-hard, use the drill bit to gently drill a hold near the top of the pendant.  Start from the front of the pendant and drill slowly towards the back.  As you get the hang of this it will go quicker.  Clean off the clay from the drill bit before drilling the next pendant.
Buttons: Drill 2 holes near the center of the clay shape.
No-Hole Option 1: You may use the Kemper High Temp Wire 24 gauge instead of drilling a hole.  Bend 1/2″ length of wire over the thin end of a paintbrush.  Use flat-head pliers to gently insert into the top of a pendant.  Leave enough loop to hang on a bead tree wire.
No-Hole Option 2: Use a glue-on bail after firing.  For this option, do not glaze the back of the pendant – lay it on the kiln shelf for firing instead of using the bead tree.  Use E-6000 Adhesive or similar product to glue on the bail, and let cure for 48 hours (or follow package directions).
Sign the back of the pendants using a Stylus:
When the pendants are leather-hard, use the small curved scraper on the Double Ended Pin and Carving Tool to gently scrape off the excess clay from the drill hole and signature.  Set aside until bone dry.
---
Pottery Tools & Supplies
Stoneware Clay
Jump Rings and Jump Ring Tools
---
Bisque Fire
Stack the pendants three – four high on the kiln shelves and fire to Bisque Cone 04 according to your kiln manufacturer's instructions.
---
Glaze
I prefer high-fire glazes, but have successfully used both Mayco and Amaco Low-Fire(Cone 06 – 05) Glazes and Laguna and Coyote High-Fire (Cones 5 – 6) on high-fire stoneware clay.  As you know, different glazes react differently on different clays.  Some glazes drip too much for small object.  Do some glaze testing with your favorite glazes to see how they work on the pendants.
Brush the glaze on evenly.  Low-fire glazes usually need at least 3 coats.  High-fire glazes vary.  After the glaze has dried, use the pin end of the Double Ended Pin/Carving Tool to scrape out the glaze from the hole.  This is VERY IMPORTANT.  If there is too much glaze in the hole, it will stick to the bead tree wire.
Glaze Fire
Remove the second and fourth wires down on the Kiln Bead Tree or Bead Rack.  Hang the pendants on the top and third wires – usually 2 pendants will fit on either side of the wire.   Be sure that none of the pendants are touching each other or the bead tree.  (I usually separate them after I put them in the kiln, otherwise they fall off between my workroom and my kiln.)
Glaze Fire according to the glaze manufacturer's and kiln manufacturer's instructions.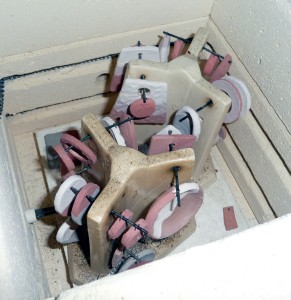 Evaluate
Hopefully, you will be pleased with a few pendants and want to wear them or give them as gifts.  Attach 9mm or 10mm jump rings to these (see this video tutorial on jump rings).
Don't be discouraged if there are several that don't meet your expectations.  Over the years I have thrown out or given away to my mosaic-making friends more pendants than I have kept to sell or wear!  I have a small box of 5 drawers, each labeled:
"Ready for Jump Rings"- I am pleased with these and can sell, wear, or give as gifts
"Grab Bags" – These are on the line – not bad enough to trash, but not good enough to sell individually.  I put 4 – 8 of these in little attractive "grab bags" and sell them for $10 per bag at craft shows.
"Glaze Again" – These are the pendants that may look perfect with a little more glaze.  Sometimes glazing again works, sometimes not.
"Rejects" – For my mosaic-making friends
"Glaze Tests" – Good enough to show how a particular glaze looks on a particular clay.  Be sure to label them.
I welcome any questions, comments or suggestions!  Have fun and experiment with different clays, shapes, textures and glazes!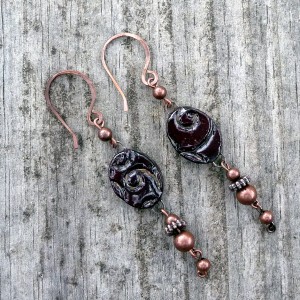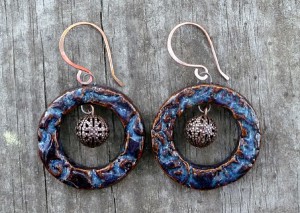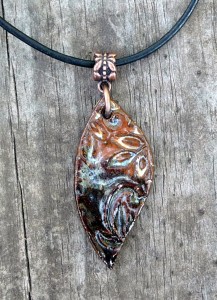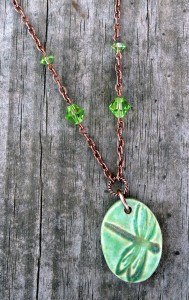 ---
Copyright 2011 Kathryn Depew
Have you tried this project? Please comment below and leave your ideas and suggestions!

Disclosure: I was not compensated for this post. I am an affiliate of Amazon
, and will receive a small commission if a link on this page is used to make a purchase.
---