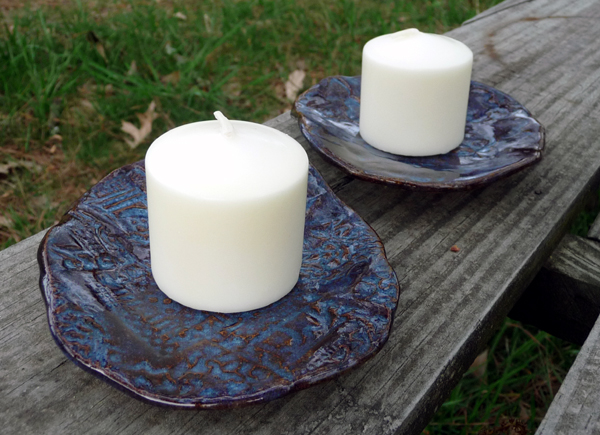 New Hand-Built Pottery by Kathryn Depew
For some of these pieces, I tried some new (to me) Coyote Cone Six glazes.  I was very happy with the results of layering different glazes.
The Amaco Potter's Choice Blue Rutile glaze is a favorite of mine. It has consistent results when brushed on (4 coats) and fired to Cone 5.
---
Handbuilt Ceramics: Pinching * Coiling * Extruding * Molding * Slip Casting * Slab Work (A Lark Ceramics Book)
---
How to Make Simple Stoneware Clay Candle Holders
The candle holders were fun and relaxing to make!  Following are some basic instructions – please feel free to email with any comments or questions!
Wedge 1/2 pound to 1 pound of stoneware clay and rolled it out with a rolling pin on a wooden board to about 3/8″ thickness using thickness strips.  I rolled it out into an irregular circular shape.
Created texture in the clay using rubber or plaster stamps.
Drape textured side down over a small round plaster mold (see directions below).  Push gently on the clay around the edges and center of the plaster mold so there is a flat space to set the candle.  Set aside to dry until almost leather-hard.
When almost leather-hard, run your finger over the edges to smooth out any rough edges.  Set aside until bone dry.
Bisque fire according to the clay manufacturer's directions.  (I bisque fire my Laguna Cone 5 clays to Cone 04.)
Glaze as desired and fire according to glaze manufacturer's directions.
Attach 3 rubber feet to the bottom of the candle holder.  These will keep the bottom from scratching furniture, and also help prevent tipping.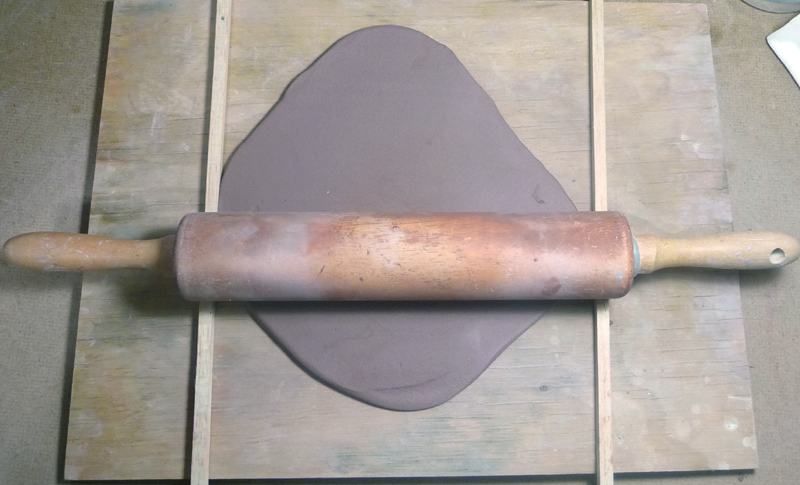 How to Make a Small Plaster Draping Mold
Mix Plaster of Paris or Potter's Plaster according to package directions.  You will need 3/4 cup to 1-1/2 cups per mold, depending on the size you require.
Fill a small round plastic container with the plaster, until the plaster 1-1/2″ to 2″ thick.  Use a container that will only be used for plaster.  Choose a container with a smooth rounded bottom.
Follow the package directions and wait to unmold the plaster form.  Let it dry completely (you can put it in the oven on "Low" to help speed the drying time).  Turn the mold over and use the smooth rounded side for draping your clay.
Make different sizes for different sizes of hand-built dishes!
---
Copyright 2012 Kathryn Depew
Have you tried this project? Please comment below and leave your ideas and suggestions! Would you like to share your creation? Please contact me!
Related articles
---