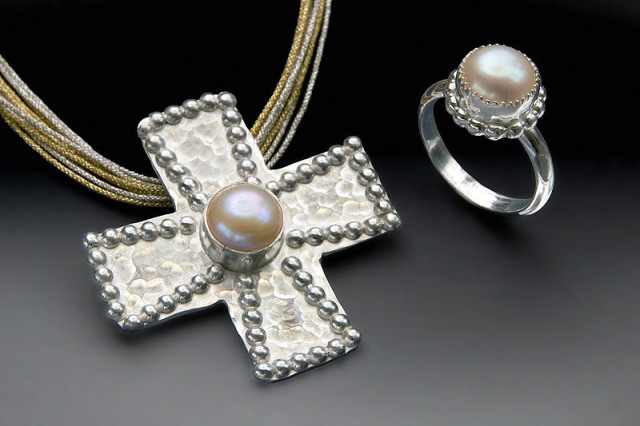 Francine creates exquisite jewelry from sterling silver, and exhibits her work at art shows and in her Etsy shop.  She resides in Cleveland, Ohio.
About the Artist
Francine has loved jewelry as far back as she can remember; she recalls making jewelry from old phone cables for her friends!  Her formal education is in communications, but about seven years ago she needed an escape from a corporate job and started taking some jewelry-making classes. It was the introduction to soldering class that really sparked her interest.   Francine's artistic influences include the jewelry that her mother and grandmother wore while she was growing up.
I am very lucky to be friends with and surrounded by many gifted artists from all mediums, they are huge influences on my work. I believe that jewelry should not take a once size fits all approach and should be fun to wear.  Jewelry, like our moods, change from day to day.  I like to create jewelry which will accommodate all different moods.
Francine enjoys teaching classes in soldering, torch fired enameling, fold forming and Viking knitting. She will be exhibiting her work at the Avant-Garde Art Show in Rocky River, Ohio, November 16-17, and the Winterfair in Columbus, Ohio, December 6-8, 2013.
Connect With Francine
Follow Francine on Facebook, Twitter, and Instagram.   Be sure to visit her Etsy shop to view more of her beautiful work!
---
Text and images Copyright 2013 Francine Ruth, used by permission.