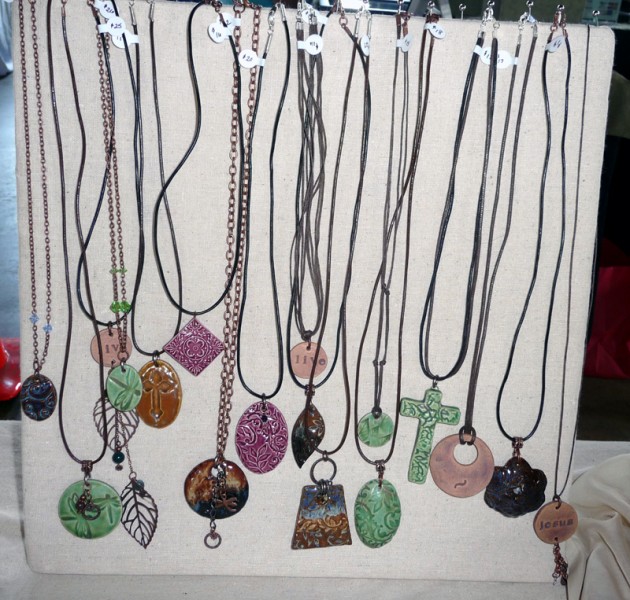 Inexpensive Standing Necklace Displays
A few years ago I found inexpensive acrylic necklace displays at Fire Mountain Gems, but I needed them to be bigger and more attractive.  I came up with a fairly simple solution using foam core and fabric, but I wasn't sure how they would hold up through packing and transportation.  We are still using them, although they've been re-covered with a different fabric.   These turned out to be a great bargain!
Please contact me with any questions or suggestions!
Materials Needed
Chain and necklace display, acrylic, frosted black, 11-1/4 x 10-1/2 x 4-3/4 inches. Sold per pkg of 4.
Foam Core Board, 3/16″ thick
Fabric
Tacky Glue or Stapler
Sticky-Back Velcro or strong glue
Decorative Pins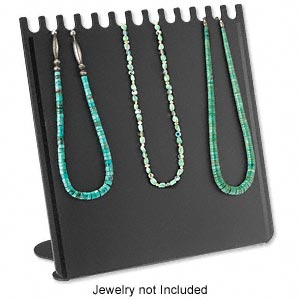 Photo provided by Firemountaingems.com
Instructions
1.  Cut the foam core board to the size you require – cut four pieces, one for each acrylic display.  If you are using these for craft shows, keep in mind that you will have to pack and transport them when you decide on a size.  Other considerations are the length of the necklaces to be displayed and storage space.  Be sure not to cut the pieces so big that the acrylic display cannot hold them up, especially if your necklaces are heavy.
2.  Cover each foam core board piece with fabric and glue or staple in place.  Choose fabric that compliments your jewelry and matches your other displays.  Keep your overall look in mind.
---
The Handmade Marketplace: How to Sell Your Crafts Locally, Globally, and On-Line
---
3.  Attach Sticky-Back Velcro to one fabric-covered board and attach to one acrylic display.  Repeat for remaining three displays.  (You can use strong glue for this instead.)
4.  Insert the decorative pins at regular intervals (1″ apart or 1-1/2″ apart) in the top edge of the foam core.
5.  Hang your necklaces, and you are through!  To transport, stack the four displays together and wrap bubble wrap around them all.
---
Copyright 2012 Kathryn Depew
Have you tried this project? Please comment below and leave your ideas and suggestions! Would you like to share your creation? Please contact me!
Related articles
---