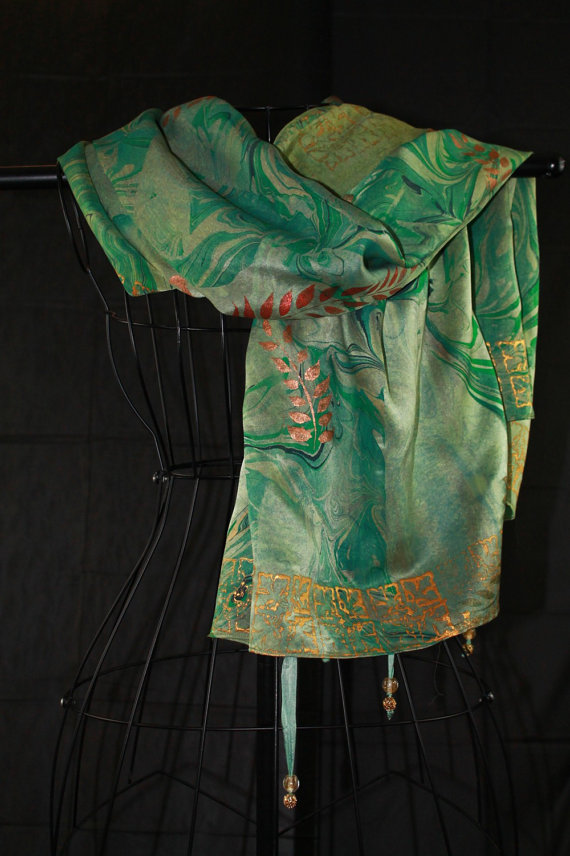 Debra Dodson of Mauveine Silk creates one-of-a-kind hand dyed and marbled silk fashions and accessories.  Visit her Etsy shop to see more of her dramatic, beautiful work.  For a brief overview of the process in photos, see the Mauveine Silk About Page.  The art of dying fabric is much like ceramic art – I never know what the contents of my kiln are going to look like after the firing.  After reading about Debra's art, I would love to try it, if only I had the space…hopefully one day soon!
About Debra and Mauveine Silk
My entire life I've wanted to make things… Crayolas and construction paper; popsicle sticks, pipe cleaners, glitter and Elmer's; clay and tempera paint and scissors… you get the idea. I got my creative gene from my dad – I remember him painstakingly assembling intricate ship models or painting lead military miniatures in exacting detail. The huge difference between us is that I tend more toward the "splash and smear and see what comes out" school. I'm a self-taught artist and through the years I worked mainly in pastels because with two small children at home they were the easiest to clean up!
For a long time I had neglected my art and I can't remember exactly how or why I started looking into silk painting, but the jewel colors and the way the dye flowed and blended on the fabric was like magic to me! As I'm much more interested in exploring different effects and textures than painting flowers or tropical birds the immediacy and spontaneity appeals to me. I'm not a risk-taker in life, but one must be daring and fearless to paint on silk because with the first drop of dye onto the pristine white there's no going back, only pressing forward to see what reveals itself.
On a constant quest for new information and techniques, I stumbled upon examples of marbling on silk. I was fascinated with how to create these mesmerizing patterns so I researched and read up on as much as I could about supplies and the basics, asked my handy husband to build me a marbling tank and promptly fell in love with the artform.
Each piece is absolutely unique. There is no overthinking here – it's just me, the colors, and the fabric. My only intent when I begin a piece is to choose my colors and enjoy the organic, natural process. The dyes blend and flow and bleed into new patterns every time; marbling paints float and swirl and move in ways that can't be planned. The luxurious sheen and flow of the silk fabric creates a finished piece that is beautiful to look at as well as beautiful to touch and wear.
Connect
Mauveine can be found on Etsy and Facebook. You may also follow on Twitter.  Debra's new website mauveinesilk.com is currently under construction and will be completed soon!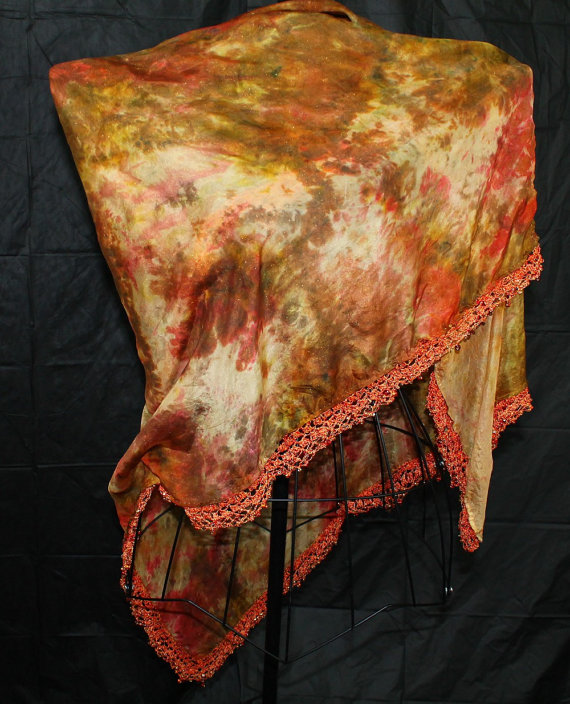 Text and Images Copyright 2013 Debra Dodson, used by permission.
---