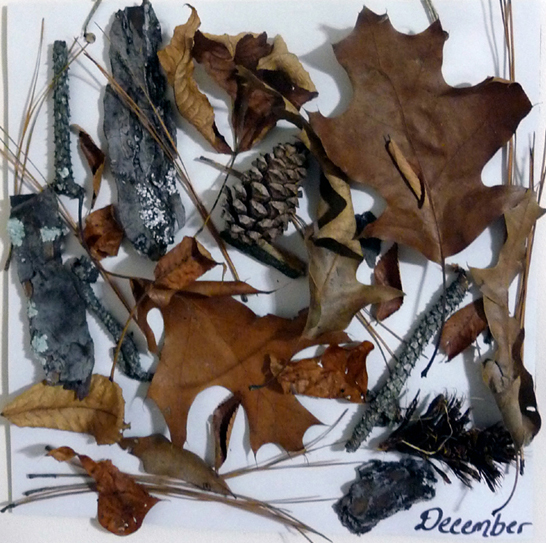 We took a nature walk around the back yard the other day to find interesting materials for a nature collage. It was a bit of a challenge because it is December, and it had rained a lot the day before! But I was determined, and we found enough to make a 12″ x 12″ collage. I wrote "December" on the bottom – I thought it would be educational and fun to make a nature collage from the back yard every two or three months, to see how leaves and other backyard stuff (including pine needles, of course) change over the four seasons. You can probably figure it out just by looking, but here's how we did it!
You will need: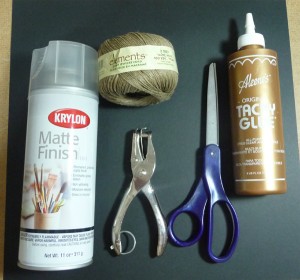 Natural Materials such as leaves, twigs, bark, pine needles, etc.
12″ x 12″ paper (I'm going to use another color next time – not sure I like the gray)
12″ x 12″ cardboard
Aleene's Tacky Glue or other white glue
Hole Punch
Scissors
Hemp Cord or other string
Matte Sealer Spray
Marker
1. Take a relaxing walk with your children and gather natural materials in a gallon size plastic bag. Let your children help pick out what to collect. Be careful not to collect any bugs!
2. Spread the materials out on some paper towels to dry if they are wet. I let ours dry overnight.
3. Punch Hanger holes in the top of the paper.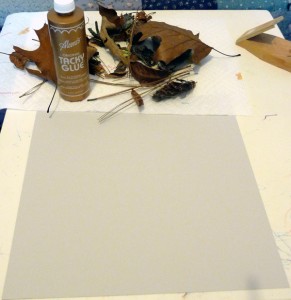 4. Place the paper on top of the cardboard and mark the hanger holes. Use one blade of the scissors to punch the holes in the cardboard.
5. Glue the paper onto the cardboard, lining up the hangar holes. Press the paper firmly into the cardboard to smooth it out.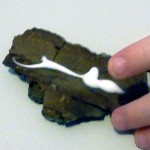 6. Help your children glue the natural materials onto the paper until it is filled, you run out of materials, or they become bored.
7. Let the collage dry overnight, then spray with the Matte Sealer.
8. Cut two lengths of hemp cord or other string. Holding the two strands together, string one end through the back of one of the hangar hole (you may have to push it through with one blade of the scissors). String the other end of the cord through the back of the other hangar hole.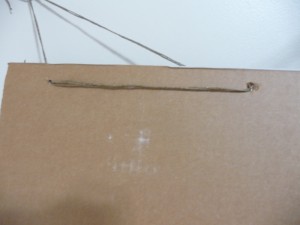 9. Pull the cord tight and tie a knot and a bow with the two ends.
10. Write the name of the month or season on the front, along with your child's name. You are finished!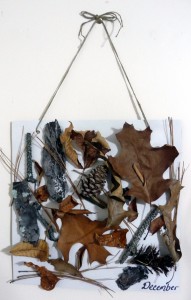 More Nature Collages On The Web:
Paper & Nature Collage (DisCo Reveal) by Caren Grant
Nature Craft – Sticky, Easy, Framed Nature Collages
12 Nature Walk Crafts for Kids!
Copyright 2011 Kathryn Depew
---