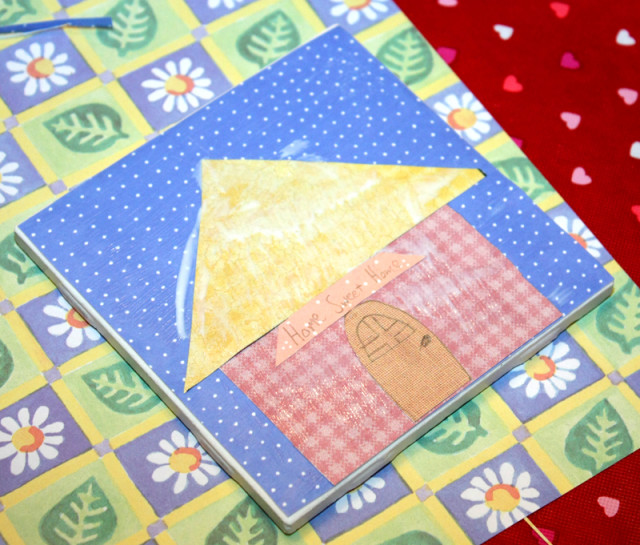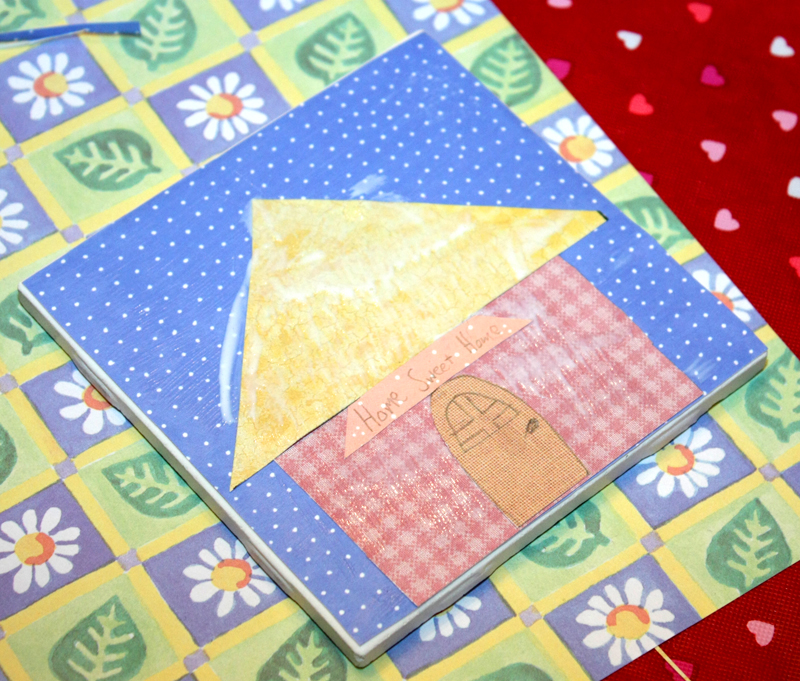 Disclosure: I am an affiliate of Amazon.com, and will receive a small commission if the links on this page are used to make a purchase.
A Wonderful Party Craft
This craft was a big hit at our Valentines Day party last year!  These coasters are easy to make (preschoolers will need some help), inexpensive, and FUN!  Each child can express himself or herself in a unique way.  The craft can also be adapted to any occasion or holiday.
I followed this tutorial from Family Your Way for the most part, except that we didn't use the spray adhesive on the felt, just tacky glue.  Also, for each child I cut out a square cardstock template that was slightly smaller (about an 1/8″ on each side) than the tiles we used.  This turned out to be very helpful, and made it much faster to measure and cut the paper.
For the younger ones (preschool and kindergarten), I used one of my templates to draw squares on a blank piece of paper.  I then let them color with crayons or markers to their hearts' content.  When they were done, I cut out the squares and followed the Mod Podge directions in the tutorial.  A great way to preserve a child's artwork!  The Mod Podge
had an unexpected (to me) effect on the paper colored with markers – the markers bled a little bit and the result was pretty neat.
For the older ones, I provided blank paper for those who wanted to color or draw their own picture, and scrapbooking paper for those who wanted to cut shapes.  They all had a ball!
Note: If you make these at a party, you may have to spray the tiles with the clear acrylic sealer after the guests have gone home, and deliver them later.  The sealer should be sprayed on after the Mod Podge has dried.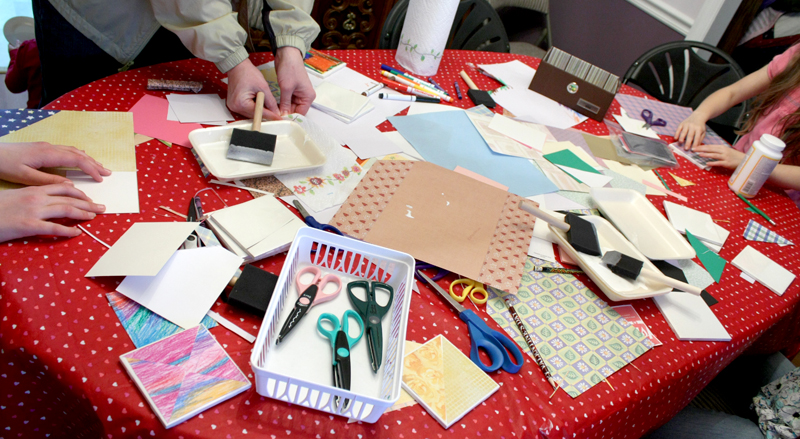 You will need:
4″ square plain ceramic tiles (find the tiles at Home Depot or Lowes for less than 20 cents each.)
Square cardstock templates, one for each child (cut out about 1/8″ smaller than your tiles on each side)
White scrapbook paper
Colored and printed scrapbook paper
Scissors or paper cutter
Pencils
Crayons, markers and/or paint
Paintbrushes (if using paint)
Mod Podge (I used Gloss-Lustre, but you could use the Satin if preferred)
Foam brushes for Mod Podge
Clean styrofoam meat trays for Mod Podge
Spray adhesive or Tacky Glue
Clear acrylic sealer
Felt squares for bottom of tiles (I cut them to the appropriate size ahead of time using the cardstock template mentioned above)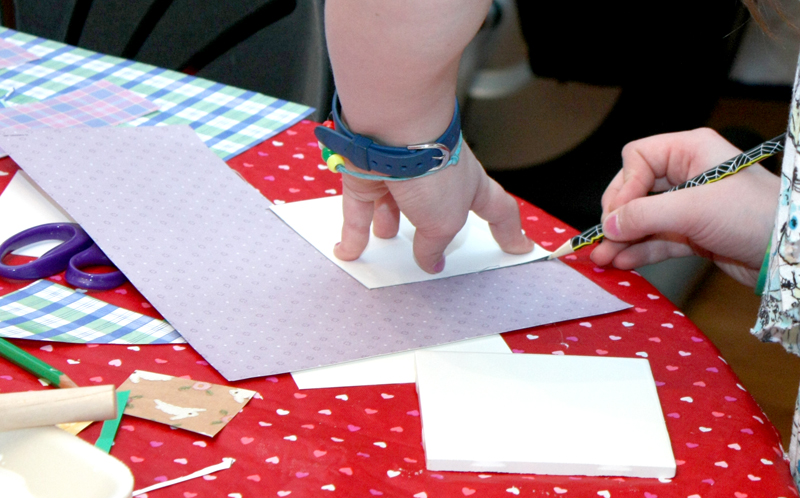 Use the cardstock template to trace a square on decorative scrapbook paper.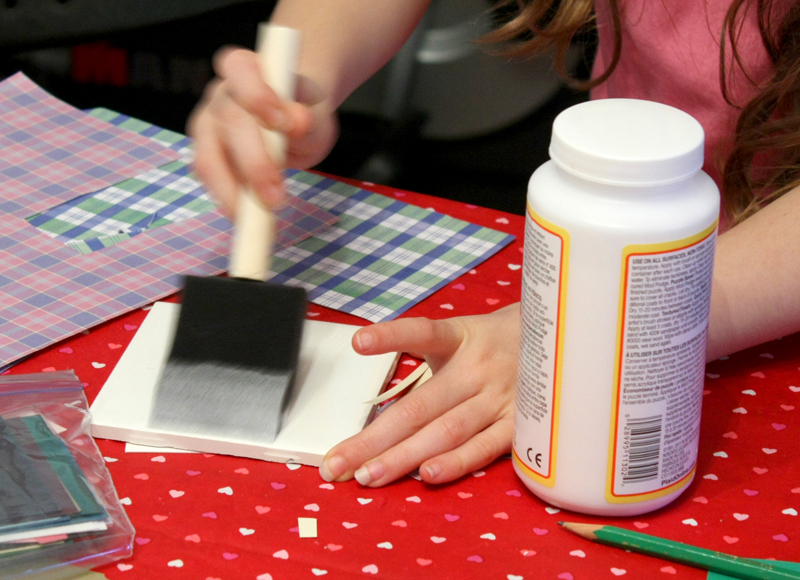 Pour the Mod Podge in the styrofoam tray (have at least one tray per two children).  Then spread a thin, even layer of Mod Podge on the tile with a foam brush.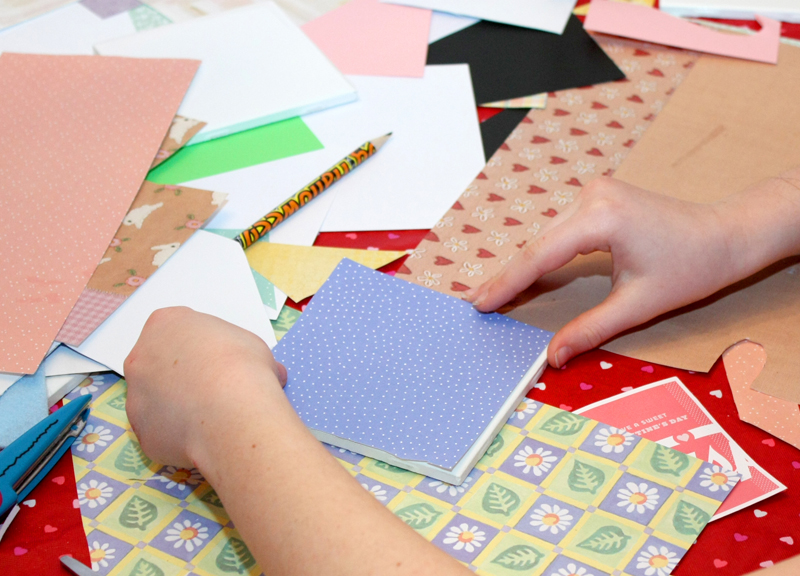 Place the paper on the tile over the Mod Podge, and use your fingers to make sure there are no bubbles and that it is securely adhered.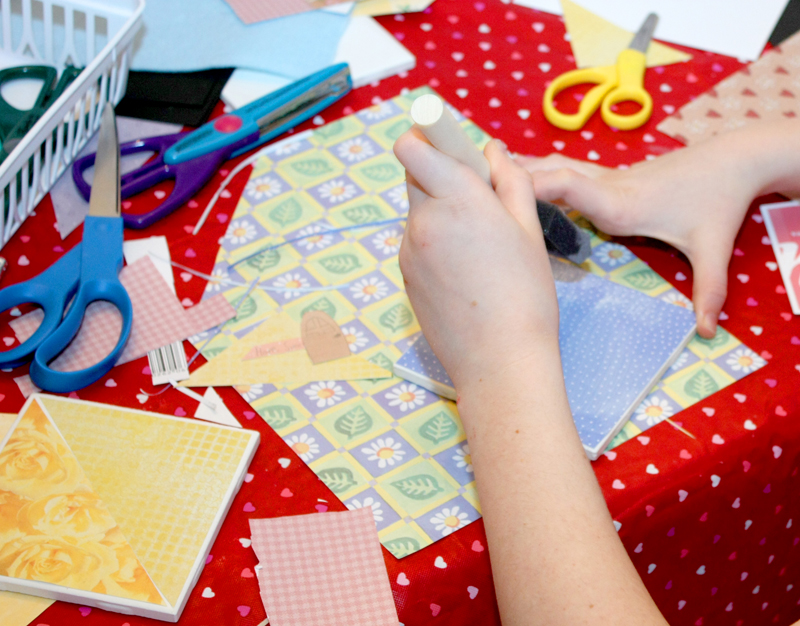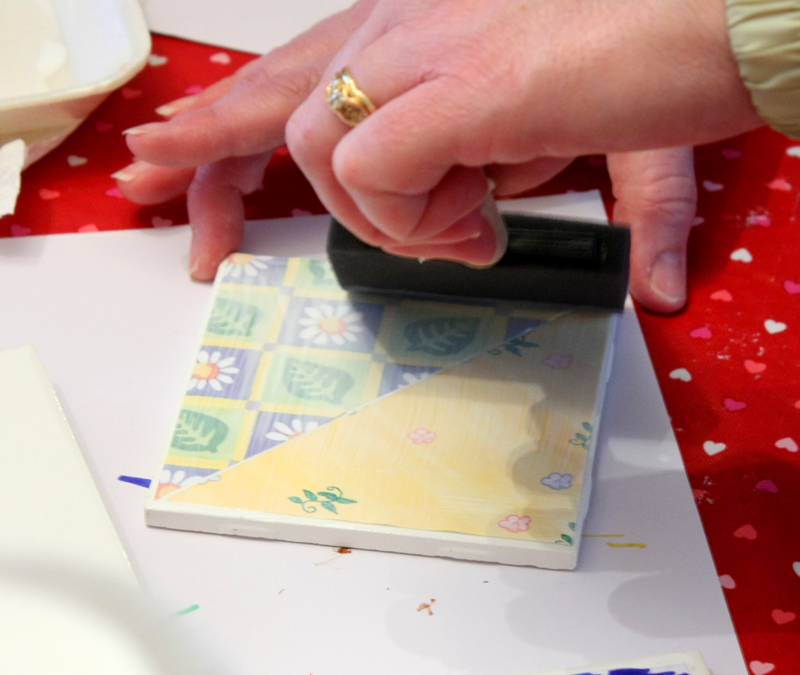 Spread another layer of Mod Podge over the paper.  You can add more shapes on top of your first layer of paper, just be sure to spread another layer of Mod Podge over the top layer.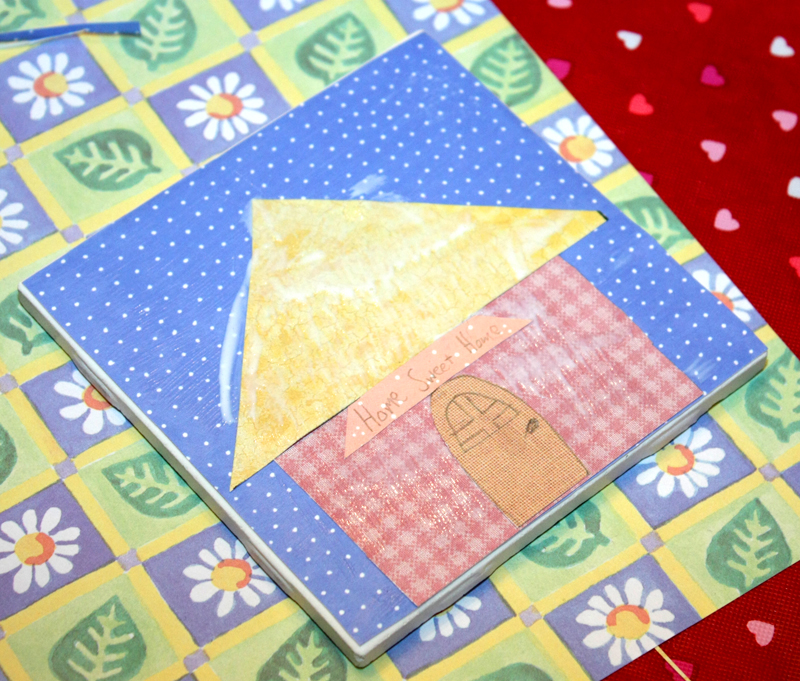 A completed piece. Once this was dry, I sprayed it with the clear acrylic sealer.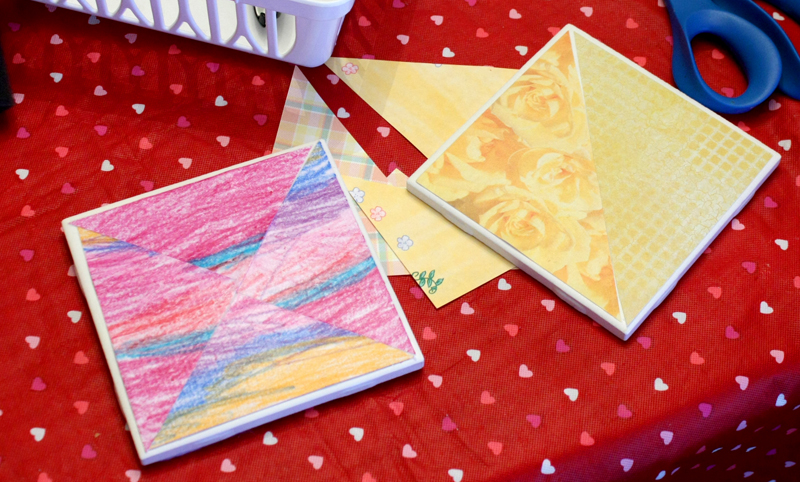 More completed pieces!  Be sure to check out the complete tutorial on the Family Your Way site. Have fun!
Disclosure: I am an affiliate of Amazon.com, and will receive a small commission if the links on this page are used to make a purchase.
---
Text and Images Copyright 2014 Kathryn Depew