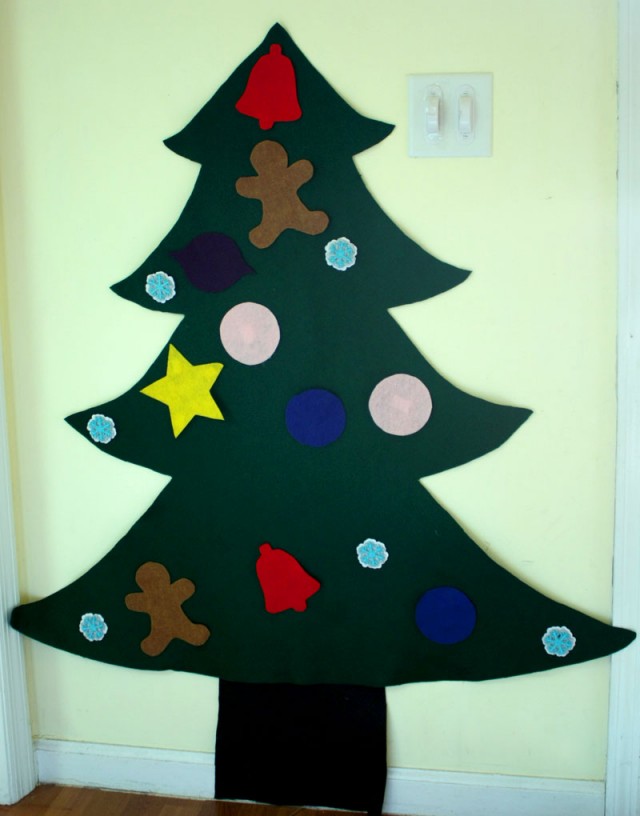 Pinterest Inspiration
I finally tried one of the crafts that I (re-)pinned on Pinterest!  This giant felt toddler Christmas tree by Johnny In A Dress grabbed my attention as soon as I noticed it – it looked like a lot of fun to make and play with, too. (I found several more versions online by searching on "felt toddler Christmas tree").  After looking high and low on the internet and Hobby Lobby for a pattern for the giant tree, I resorted making one myself.  I was pleased with how the tree turned out, so I thought I would share how I did it here.
Younger kids can help pick out the ornament shapes and colors, and older kids can help you cut out them out!  You can also add presents under the tree as shown in this Pin.

Making The Pattern
1. Tape art paper or tissue paper to the wall where you plan to mount the felt tree.
2. With a pencil, trace around a tree-shaped cookie cutter in the middle of the paper (you can barely see it in my picture, but there is a small tree drawn in the center.)
3.  With a pencil, draw half of a giant tree shape on the art paper using the small tracing as a guide.  You can probably see in the picture that this took me several tries.
4. Once you are happy with the shape and size, use a black marker to mark your final shape.   NOTE: Draw a line to mark the middle of the tree – I didn't do this, and it made it difficult to know where to cut.
5. Take the paper down from the wall and cut the pattern out.  Cut the half-tree and trunk out separately.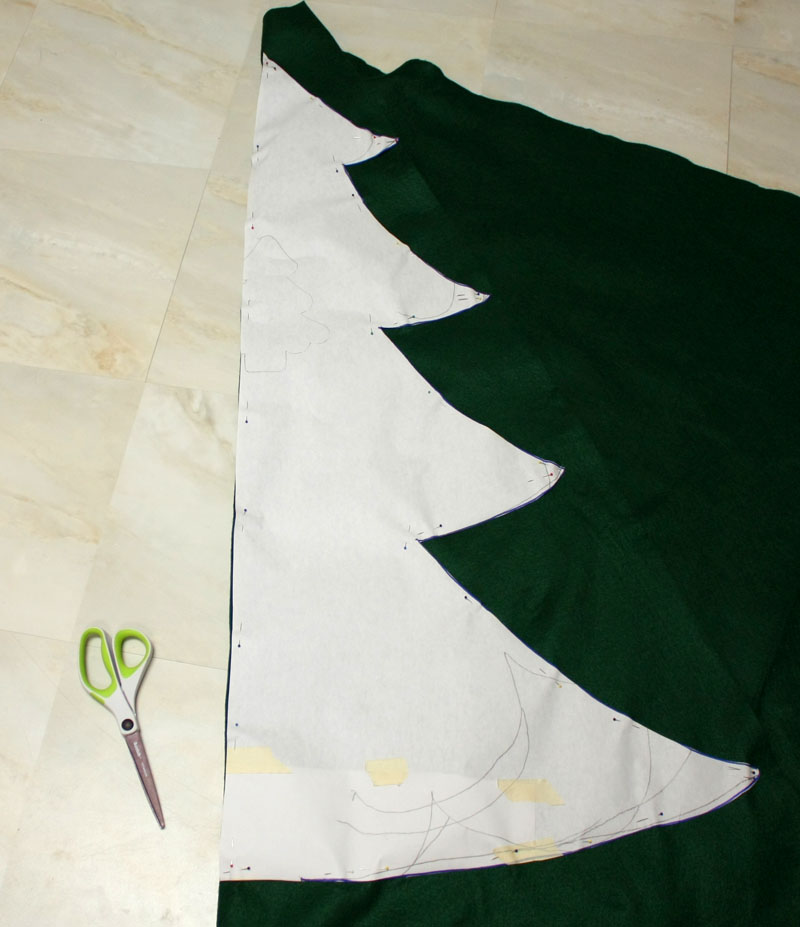 Cutting The Felt
6. Fold a piece of green felt and pin the tree pattern on the fold.  Make sure the entire tree pattern covers the felt on both sides of the fold.  Cut out the tree.  NOTE: Save your pattern for a friend or for future gifts!  I used about 1/2 yard of green felt (I bought 1-1/2 yards, and had about a yard left over.)
7. Pin the trunk pattern on brown felt and cut out the trunk.  Alternatively, you can use a 9″ x 12″ – ish piece of craft felt and trim down to fit your tree.
Ornaments
8. For patterns, print out ornament-shaped templates from the internet (see list of links below), use scrapbooking templates, trace around cookie cutters, or cut out ornament shapes with a Cricut Machine.
9.  Cut out the ornament paper patterns and pin to various colors of felt.  Cut out the felt shapes.
10.  I attached a small piece of adhesive-backed Velcro to the back of my ornaments.  Some people say that felt sticks to itself, but I found my shapes would just fall off the tree more often than not.
Attaching To The Wall & Storage
11. Attach the tree and trunk to the wall with small pieces of tape or small pins, depending on how old your child(ren) are, and how likely they are to pull the tree off the wall (you don't want loose pins falling on the floor!)  I used very small pieces of double-sided foam tape, but I don't know if it will pull the paint off the wall when they are removed, so I won't suggest this until I take the tree down!
12.  For storage, just loosely roll up the tree with the trunk and the ornaments and store it in a cardboard tube or tie a ribbon around it!
Links To Ornament Shapes Printable Templates
Christmas, Winter, and Holiday Patterns on First-School.ws
Christmas Ornament Shapes Template
Printable Star Ornament Pattern
Small Home Big Start Gingerbread Man Template (Click Here For Printable Template)
For more online, Google or Bing "Christmas Shape Templates" or "Christmas Felt Templates" or something similar, then look at the images tab.
I hope you enjoy this project!  Feel free to contact me with any suggestions or questions!
---
Copyright 2012 Kathryn Depew